Chuck Preview: Season 4 Premieres Monday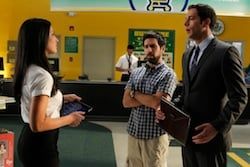 This week Chuck will return for Season 4. If you're wondering how things are going to pick up, we have a few details from the fourth season, as well as some clips from the season premiere.
Below is NBC's synopsis for Season 4, which should give you some indication of what's to come. If that's not enough for you, check out the clips below, two of which will give you an eyeful of what's become of the Buy More.
Chuck premieres on September 20 on NBC (8-9 p.m. ET).
CLICK HERE to view the 2010 Fall TV Premiere Schedule.