Jason Beghe Joins NBC's New Drama Chicago Fire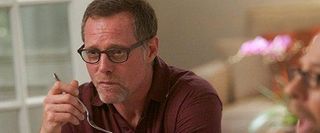 NBC's new drama Chicago Fire has added a new cast member, but he won't be a fireman; instead Californication's Jason Beghe is on board the series as a police officer. He'll play a recurring role as a tough gang unit officer.
The series, which follows the men and women of the Chicago Fire Department, much as the name implies, stars The Vampire Diaries' Jason Kinney and House star Jesse Spencer. Apparently the firefighters aren't the only ones whose lives will be examined though, as The Hollywood Reporter says Beghe's character will be Detective Hank Voight of the police department. He's described as dangerous and committed to protecting his son, who is something of a troublemaker, from facing the legal ramifications of his actions. A gang unit cop whose own son is a delinquent? Now there's a conflict of interests for you.
Beghe has been appearing as a friend of Hank Moody's on Showtime's Californication in a recurring role as Richard Bates. He and Californication star David Duchovny will spend some more time on the set together for the upcoming movie Phantom, which also stars Ed Harris and William Fichtner. Chicago Fire will be another addition to a long resume for him.
Chicago Fire has a lot to prove coming into a television arena filled with procedurals, but producers insist that the show is much more than that. Executive producer Dick Wolf promises much more than a "fire of the week" from the series, but we'll have to see if it lives up to the promise. It premieres on NBC on October 10th.
Your Daily Blend of Entertainment News
Your Daily Blend of Entertainment News
Thank you for signing up to CinemaBlend. You will receive a verification email shortly.
There was a problem. Please refresh the page and try again.