Mia Michaels Back With So You Think You Can Dance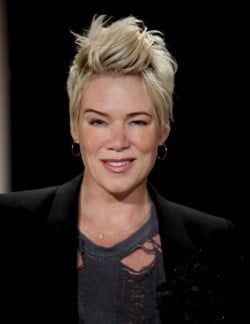 After a mysterious and dramatic departure before the live shows last season, Mia Michaels is reportedly back with So You Think You Can Dance for its upcoming season. According to Zap2It, Michaels was in New York this week and on the judges panel for the auditions taking place there. How involved she will be remains to be seen.
Michaels had been a popular, and at times controversial, judge and choreographer for the series since its inception. Her departure this season coincided with Adam Shankman's promotion to permanent third judge, and I wondered if that didn't have something to do with it.
She was arguably the best contemporary choreographer the series had seen, receiving two Emmy nominations for her work, winning the trophy for her second season dance set to Celine Dion's "Calling You." The performance, featuring then-contestants Travis Wall and Heidi Groskreutz is affectionately known to fans of the show as "The Bench Routine."
I never really got Michaels as an effective judge, she's too ethereal, but her approach and style have created some of the most amazing performances we've ever seen on the show. Luckily, the aforementioned Travis Wall joined the choreography team last season, bringing some of his own magic to the stage.
I certainly wouldn't mind seeing Michaels rejoin the show as a choreographer, and I can even stand her voice on some of the earlier rounds, as well as the occasional expanded judging panel, but I rather hope they stick with Nigel, Mary and Adam for most of the season.
If you haven't seen her work, here's "The Bench Routine":
Your Daily Blend of Entertainment News
Your Daily Blend of Entertainment News
Thank you for signing up to CinemaBlend. You will receive a verification email shortly.
There was a problem. Please refresh the page and try again.