What David Letterman Is Doing With His Old Set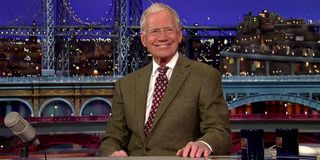 David Letterman entered our pantheon of late night talk show hosts long ago. Anyone still clamoring for reminders of his many, many years as one of America's favorite hosts can head to a place well known to anyone who spent any time watching Letterman on television.
The IndyStar reports that the revered talk show host is gracing his alma mater with memorabilia from his days behind one of the most famous desks on TV. David Letterman has left Ball State University with some of his Emmy awards, a talk show set and other items that commemorate his time on television. The university's collection, which was donated by Letterman, will be known as "The David Letterman Experience."
There are no other details on the specifics of the memorable assortment, but you can bet that many items will be easily recognizable by David Letterman fans. Letterman hosted NBC's Late Night with David Letterman from 1982 until 1993, and then moved on to CBS and the Late Show. The talk show set, which I hope includes any number of the false New York City skylines used on both shows, could come from either show and any iteration of the furniture from them.
David Letterman began his broadcasting career at a college radio station, and soon moved on to talk radio, and work as an anchor and weatherman in Indianapolis. After moving to Los Angeles in the mid-1970s, he started working as a standup comedian and a comedy writer. By 1980 he had landed a morning show on NBC, and while a critical success, the show was canceled in just a few months. A little over a year later, in 1982, Letterman began his NBC late night show.
Each of his shows included his patented brand of off beat humor that often incorporated regular people as either interview subjects or sidekicks on both shows. Some of his most popular segments, like Stupid Pet Tricks and Stupid Human Tricks, used non-celebrities in the most entertaining ways. David Letterman's shows were also known for his Top Ten List, which, due to intellectual property disagreements, had to be renamed the Late Show Top Ten when he moved to CBS. Hopefully, the university's collection will evoke memories of all the best moments from his shows.
The move to CBS was one rife with strife. When Johnny Carson retired from The Tonight Show in 1992, many assumed that David Letterman would take over for the long running host. But, when the gig was given to Jay Leno, Letterman decamped to CBS. The move cost his new network over $140 million.
It's pretty obvious now that his move to CBS was the right one. David Letterman went on to continue his late night legacy. His combined time on both shows led him to rack up hosting duties for 33 years with a total of 6,028 shows under his belt. If that's not a career worthy of its own "experience" at Ball State University, then no one's is.
Bachelor Nation, Gilmore Girl; will Vulcan nerve pinch pretty much anyone if prompted with cheese...Yes, even Jamie Fraser.