Where Jon Stewart Is Headed Next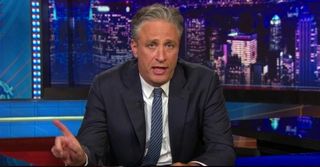 Television just hasn't been the same without Jon Stewart lately. Known for his hosting gig at The Daily Show on Comedy Central, Stewart more than made a name for himself with his intelligent and hilarious faux news coverage for 16 years. Since leaving the show in summer of 2015, Stewart has been conspicuously inconspicuous from the small screen. Luckily for those in Jon Stewart withdrawal, HBO has announced a pact that will be bringing him back to the limelight with a four-year production deal.
Fans of Jon Stewart's tenure on The Daily Show may be slightly disappointed to discover that the former host won't be taking on a similar regularly broadcast series. Instead, Stewart will work with pioneering cloud graphics company OTOY Inc. to use new technology to produce timely content in the form of digital shorts. Thos same fans may be slightly less disappointed to discover that the content will appear on streaming platforms HBO NOW and HBO GO up to multiple times per day. Stewart may not be returning to the faux news talk show scene, but it won't be too hard to get a daily dose of his particular brand of comedy.
Jon Stewart will be getting plenty of leeway with regard to the content that he produces for HBO. The deal will see Stewart viewing current events through his unique point-of-view. It's hardly surprising that HBO would take a soft touch to management of the new content; Stewart will likely be bringing with him a healthy chunk of viewers to HBO streaming platforms, and forcing a departure from the humor that so endeared him to the masses might not keep those masses subscribing for the sake of Stewart for too long.
The former host may be the biggest Daily Show alum to make the jump to HBO, but he's not the first. Former correspondent John Oliver, who had filled in as host during Stewart's hiatus from The Daily Show to direct film Rosewater, is now at the helm of Last Week Tonight with John Oliver on the premium network.
While it may feel strange to receive the Stewart brand of comedy from HBO, Comedy Central is hardly the network that it was when Stewart first hit the airwaves on The Daily Show. With Stephen Colbert of sister series The Colbert Report moving to The Late Show with Stephen Colbert on CBS in September of 2015, former Daily correspondent Larry Wilmore taking the Colbert time slot with The Nightly Show, and relatively new face Trevor Noah moving into the top spot on The Daily Show, the faux news scene at Comedy Central has switched generations of hosts.
Jon Stewart moving to HBO in his new four-year deal could mean great things for the audience and comedian alike. A new format for regular content should be refreshing for Stewart, and fans will get that needed dose of Stewart humor as presidential election season gets into swing.
There's no news yet of when HBO will have some new Jon Stewart content, but HBO NOW and HBO GO may see a new wave of subscribers in the not-too-distant future.
Resident of One Chicago, Bachelor Nation, and Cleveland. Has opinions about crossovers, Star Wars, and superheroes. Will not time travel.
Your Daily Blend of Entertainment News
Thank you for signing up to CinemaBlend. You will receive a verification email shortly.
There was a problem. Please refresh the page and try again.