The Little Stars Of A Bug's Life Go Big On Blu-Ray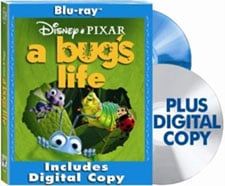 Blu-ray is all the rage, but something about animation on Blu-ray Hi-Def, in particular, gets me especially hyped. I'm not a fan of bugs, but these ants are downright adorable. Go on an adventure with Flik when Disney/Pixar releases A Bug's Life on Blu-ray May 19th.
Flik the ant (Dave Foley) is having a rough time. What he thinks are his greatest inventions turn out to be his greatest disasters and land him in heaps of trouble. When one of these mishaps angers Hopper (Kevin Spacey), the leader of a gang of grasshoppers that demand Flik's colony provide them with food, Flik is reprimanded by the royal council and is eventually exiled from his home. Flik heads out into the world where he meets a group of circus bugs who are also struggling through rough times. When he discovers the troupe's last performance was nothing short of a disaster, he offers them a new job, becoming warriors and defending his colony from the grasshoppers.
This is just another gem from Disney/Pixar. It's one of those films that you can't help but watch whenever it's on. With a stellar cast including Foley, Spacey, Julia Louis-Dreyfus, Hayden Panettiere, Phyllis Diller, Denis Leary, Bonnie Hunt, Brad Garrett, David Hyde Pierce, Christina Milian and Ashley Tisdale, A Bug's Lifewill have you wishing you could befriend all the little critters that invade your home. (But not enough to skip a call to the exterminator when you find them.)
This 2-disc release may run $39.99, but you'll get your money's worth. Not only does it include tons of material from the original DVD (including the short film Geri's Game, "Grasshopper and the Ants," director commentary, story and editorial, storyboard-to-film comparison, outtakes, behind-the-scenes footage and character interviews), but you also get a significant amount of new bonus material. There's an introduction to the film by John Lasseter, a filmmakers roundtable, a look at the beginning stages of the animation process in "A Bug's Life: The First Draft," a story treatment introduction by Lasseter and access to BD-Live features. There's also a second disc which provides a digital copy of the film. That's an epic number of special features for a film with such tiny stars!
Image 1 of 1
Staff Writer for CinemaBlend.