Video Interview: Edgar Wright On Scott Pilgrim Vs. The World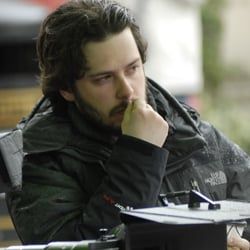 It seems a little crazy to interview a director on the occasion of a Blu-Ray release, months after the film has come out and after seemingly every news outlet in the world has sat down with the guy to discuss the movie in question. It's especially hard when the director is Edgar Wright, who did such a relentless press tour for both the theatrical release of Scott Pilgrim vs. the World and its Blu-Ray release (out today) that it practically seems like he never stopped promoting the movie at all. And though Scott Pilgrim was considered a flop when it hit theaters, grossing just $31 million off an estimated $60 million budget, it's been eagerly anticipated on Blu-Ray and DVD by the critics, bloggers and fans who recognized it as a landmark in mixing comic books and video games into film, not to mention a great coming-of-age story and damn funny comedy.
As it turns out, the reason Scott Pilgrim was so good is exactly the reason Edgar Wright still has something to say in an interview-- the man is overflowing with ideas and thoughtful responses, having thought seemingly endlessly not just about his own film, but Hollywood, the way audiences take in movies, and of course the vast pop culture around him that he references constantly not just in Scott Pilgrim, but in all his previous work. I wound up spending 35 minutes talking to Wright, and it could have gone on for hours-- I didn't even ask half the questions I had prepared. We spent time talking about he movie's box office response and why the opening weekend gross doesn't tell a fraction of the story, then moved on in to some of the themes and overall story arcs he incorporated into the film, elements of the ending that changed from Bryan Lee O'Malley's original graphic novel, why Scott Pilgrim is a flawed character who isn't entirely fixed by the end, and how to make pop culture references without being lazy and Family Guy-ish about it.
It's a long interview, and for your own sanity I've cut it up into four sections, which roughly contain the major topics we talked about. I was especially interested to hear him answer some of my specific questions about the ending, and especially his admission that some of the pop culture references on Spaced, the show he made with Simon Pegg, Jessica Stevenson and Nick Frost in the late 90s, feel a little lazy to him now. It's remarkable to get this much time to talk to a director on camera, especially one with so much to say about his own work even months into a grueling press tour. Check out the full interview below, read our review of the Blu-Ray here, and buy Scott Pilgrim vs. the World today on Blu-Ray and DVD.
Edgar Wright Part 1
Edgar Wright Part 2
Edgar Wright Part 3
Edgar Wright Part 4
Staff Writer at CinemaBlend
Your Daily Blend of Entertainment News
Thank you for signing up to CinemaBlend. You will receive a verification email shortly.
There was a problem. Please refresh the page and try again.