Warner Bros. Responds To Bethesda Lawsuit Over Westworld Mobile Game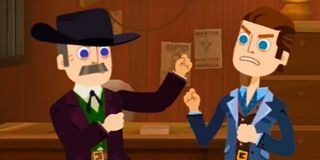 Following accusations that code used to develop Fallout Shelter was illegally reused by developer Behaviour Interactive and Warner Bros. Interactive Entertainment to create a very similar game, Westworld, the latter has finally offered a statement in response. If you were hoping for some dialogue worthy of a courtroom drama, though, you might be a little disappointed. Warner Bros' response to "you did a bad thing" is currently little more than "nuh-uh."
We reported last week that Bethesda had filed a lawsuit alleging that code they own the rights to had been utilized to make another game. Remembering that you can't copyright an idea, the fact that the mobile Westworld game looks and plays remarkably like Bethesda's own Fallout Shelter probably isn't enough juice to build a case off of. However, Bethesda had a pretty convincing argument that a glitch which appears in their game also appears in the Westworld game which, if true, might point to the same code being used to develop both games. Warner Bros. disagrees, though, offering the following rebuttal to Gameinformer.
We find the wording of this statement to be of particular interest, as it reads like Warner Bros. is pushing any potential blame to the developer, Behaviour Interactive. It basically says "we've done nothing wrong but, if something wrong was done, it was definitely those other guys over there."
Warner Bros. states that the developer has assured them no wrongdoing has taken place and that they themselves never tried to convince said developer to use code from another game. In other words, if anything shady has gone down, Warner Bros. is trying to make it clear that they were not the party responsible for it. The statement from Warner Bros. also calls the claims in the lawsuit surprising, baseless and unsubstantiated, but the argument feels a bit limp in black and white.
Obviously, this is just the publisher's quick statement on the matter, so we're sure a stronger case is being developed behind the scenes. Still, as far as optics go, it's not the most convincing.
We're most interested in hearing what glitch, exactly, Bethesda is referring to in Fallout Shelter that also pops up in Westworld. Our understanding is that the glitch was eventually patched out of Fallout Shelter so, if it's in this early build of Westworld, too, that certainly sounds pretty damning. The chances that two very, very similar games would have the exact same glitch and not be built from the same code is highly unlikely, but we're open to all possibilities until further details about the case emerge.
Staff Writer for CinemaBlend.
Your Daily Blend of Entertainment News
Thank you for signing up to CinemaBlend. You will receive a verification email shortly.
There was a problem. Please refresh the page and try again.