9 Shows You Should Stream If You Like Star Wars' The Mandalorian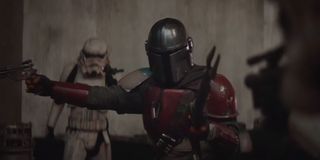 In an age of extreme cultural divide, it is nice to know that Star Wars fans can at least agree on one thing: The Mandalorian. The Disney+ exclusive series starring Pedro Pascal as a nameless bounty hunter scouring the post-imperial galaxy has won the hearts of fans and critics alike and inspired an endless wave of Baby Yoda memes.
What is it about this spin-off series, which will enter its second season in October, that has earned nearly intergalactic acclaim (other than Baby Yoda, of course)? I would say that the secret to The Mandalorian's success is its transcendence beyond the usual themes and tones associated with Star Wars, combining sci-fi with elements of action, drama, western, and even some dark comedy, giving viewers something everyone can appeal to.
Therefore, when recommending fans what other TV shows they may be interested in, the possibilities are almost endless. However, these are just nine shows available to stream that I found to resemble The Mandalorian the closest.
The Witcher (Netflix)
It is convenient that both The Witcher and The Mandalorian are popular enough within their respective fan bases that any competition to the be top fantasy series about a lone warrior's violent encounters with monstrous creatures and despicable humans proved unnecessary when their premiere seasons dropped in late 2019. Otherwise, if you throw out Mando's helmeted anonymity and obvious soft spot for Baby Yoda, he and the socially-disinterested Geralt of Rivia are pretty much one in the same.
Henry Cavill trades in Superman's red and blues for a sword and armor to play monster hunter Geralt of Rivia in The Witcher. The Netflix original fantasy drama has finally broken the curse and proved that video game adaptations can tell good stories. To be fair, however, that probably is because the show is based more on Andrzej Sapkowski's novels than the popular video game series it inspired. Stream it on Netflix here (opens in new tab).
Star Wars: The Clone Wars (Disney+)
Of course, in the event recommending TV shows related to a Star Wars spin-off, we would have to recommend a Star Wars spin-off. The second iteration of this animated series (after Genndy Tartakovsky's original 2003-2005 run) chronicling the events between Attack of the Clones and Revenge of the Sith is entering its seventh and final season on Disney+.
Star Wars: The Clone Wars follows Anakin Skywalker and Obi-Wan Kenobi joined by well-known characters from the Star Wars films, as well as new faces, in a fight to defend the Grand Army of the Republic against the oppressive Separatists. Animated in a relatively unique design that paints the galaxy far, far away in a new light, this action-packed series is a must die-hard fans. Stream it on Disney+ here (opens in new tab).
Farscape (Amazon Prime)
Mando's greatest advantage to his occupation as a planet-hopping bounty hunter that, understandably, goes unspoken is that he has been exposed to the various bizarre creatures and known dangers of the Star Wars universe since birth. The main protagonist of the cult sci-fi series Farscape, did not have that advantage when he found himself stuck in a galaxy far, far away.
Astronaut John Crichton (Ben Browder) is accidentally thrown into a deep stretch of the universe that is a long, long way from Earth, where he must make allies with a group of aliens outrunning oppressive military race. Farscape aired on the SyFy channel when it was still called "Sci-Fi," and is still backed by a modest legion of fans (including Guardians of the Galaxy director James Gunn) who praise its four seasons and conclusive mini-series for its unique space opera aesthetic and use of the Jim Henson Company's puppetry instead of relying on CGI aliens. Stream it on Amazon Prime here (opens in new tab).
Watchmen (HBO NOW)
Like Star Wars (the new trilogy, in particular), director Zach Snyder's 2009 adaptation of Alan Moore and Dave Gibbons groundbreaking graphic novel Watchmen has its admirers and its harsh critics. Like The Mandalorian, series developer Damon Lindelof's HBO series tells a new story within the same universe of the original property that has been widely accepted as a worthy successor to Moore's novel.
The first (and, what appears to be the only) season of Watchmen sees an aged Adrian Veidt (a.k.a. Ozymandias, played by Jeremy Irons) and Sally Jupiter (a.k.a. Silk Spectre II, and now an FBI agent going by Laurie Blake, played by Jean Smart) bearing witness to a new generation of superheroes trying to live above their reputation as outlaws. The 9-episode show is a fresh take on what was already one of the most refreshingly original comic book stories ever printed due to its continuation of Alan Moore's subversive commentary on heroism through a modernist lens. Stream it on HBO NOW here.
Firefly (Hulu)
You simply cannot talk about the western influences Jon Favreau brings to The Mandalorian's science-fiction-based world without bringing to mind the original full-blooded space western. Firefly was unlike anything any adventure series on TV before, which must have been why it was doomed from the start and cancelled before it could complete its 14-episode first season.
This space opera about a -- sort of -- intergalactic A-Team of fugitives aboard a ship called Serenity, which the spin-off movies was named after, is one of Buffy the Vampire Slayer creator Joss Whedon's most celebrated endeavors. Whenever you take Firefly for a test drive, if you have not already, let me know if you can hear Mando's sarcastic charm when Nathan Fillion's heroic Captain Mal Reynolds speaks. Stream it on Hulu here (opens in new tab).
The Expanse (Amazon Prime)
Speaking of heroic charm, one of the most admired heroes in science fiction television today is The Expanse protagonist Jim Holden (Steven Strait), an ice freighter captain from a seemingly utopian society. Like Pedro Pascal's title role in The Mandalorian, Holden has usually one to follow orders, until a dark discovery gives him reason to rebel and become the reluctant hero of his story.
The Expanse was a Syfy original series before Amazon Prime saved it from cancellation and premiered its fourth season December 2019. Based on James S.A. Corey's ongoing series of novels about a government conspiracy threatening the (mostly) peaceful colonization of the entire Solar System, it has been praised by fans and critics and one of the brainiest sci-fi on TV. Just ask those who compare it to Game of Thrones. Stream it on Amazon Prime here (opens in new tab).
Killjoys (SyFy)
Another show that used to be on SyFy, but at least was able to end on its own terms after five seasons, is Killjoys: the adventures of a trio of bounty hunters (Hannah John-Kamen, Aaron Ashmore, and Luke MacFarlane) who trying to remain independent in the wake of interplanetary conflict. Hmmm. Now, how could a show about space bounty hunters possibly relate to The Mandalorian?
Now, before you start calling out Jon Favreau for plagiarism, The Mandalorian is lightyears different from Killjoys, which is a fast-paced comedy with protagonists who love a little hard partying in between retrieving bounties. As I see it, even an intergalactic bounty hunting binge could use some comic relief, and this is the perfect comedy detour. It may not be available on any major streaming services at the moment, but can be watched on SyFy's official website. Stream it on SyFy here.
Justified (Hulu)
I remember when Justified was first about to premiere on FX and the network, known for its signature brand of unique promotional material for its series, ran an ad that saw its protagonist, Raylan Givens, mentioning Han Solo's fatal meeting with Greedo at the cantina before he shoots a bar patron who was clearly not a good man. Now, I promise that this Star Wars reference is not the only reason I have to relate it to The Mandalorian. I think it matches because, while it is a western-influenced story about one man's unorthodox methods of taking care of business, Justified is a full-blooded western about about one man's unorthodox methods of taking care of business.
Timothy Olyphant returns to television as another southern lawman after playing one on Deadwood, The Crazies, and prior to his Once Upon a Time... In Hollywood as a U.S. Marshal reassigned to his childhood home, a mining town in rural Kentucky. Just like the character of Raylan Givens incorporates an old school, wild west style of law enforcement to his modern day town, prolific television writer and producer Graham Yost brings an old school, spaghetti western flair to Justified, a crime drama that brings big excitement to a small town. Stream it on Hulu here (opens in new tab).
Westworld (HBO NOW)
All this talk about science fiction drama and western action, you had to assume I was eventually going to mention this particularly unique combination of the two. In reality, this acclaimed series, Westworld would be more accurately described as futuristic cautionary tale cleverly disguised as a 19th-century spaghetti western, just as the titular world within the series is.
A darker reimagining of a 1973 film of the same name written and directed by Jurassic Park scribe Michael Crichton, the title of Westworld refers to a theme park, created by Dr. Robert Ford (Sir Anthony Hopkins), in which guests are able to live out their deepest desires in a highly realistic western-style setting, inhabited by unsuspecting, human-like androids who truly believe they exist in an ear prior to Western Civilization. Complete bizarre erotica, epic gunfights, and Black Mirror-levels of technophobic intensity, this HBO series may technically be a remake, but is creatively one of a kind. Stream it on HBO NOW here.
I know what you are thinking: these shows could use a little more Baby Yoda. Perhaps, but, if you need something to binge while you wait for The Mandalorian's return to Disney+ this October, I think these may suffice. Be sure to check back for more updates on Star Wars spin-off series as well as additional streaming recommendations here at CinemaBlend.
Jason has been writing since he was able to pick up a washable marker, with which he wrote his debut illustrated children's story, later transitioning to a short-lived comic book series and (very) amateur filmmaking before finally settling on pursuing a career in writing about movies in lieu of making them. Look for his name in just about any article related to Batman.
Your Daily Blend of Entertainment News
Thank you for signing up to CinemaBlend. You will receive a verification email shortly.
There was a problem. Please refresh the page and try again.