James Bond: Spectre Trailer Recreated In GTA 5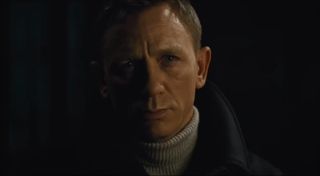 Once the PC edition of Grand Theft Auto V hits the market, a steady stream of ridiculous mods will follow. For now, though, players are exercising their creative expertise with the limited selection of tools on the console editions of Grand Theft Auto V. And they're doing a fantastic job.
James Bond fans recently recreated the Spectre trailer for the upcoming 007 film starring Daniel Craig. You can see the GTA V rendition in the video below, courtesy of YouTuber Powerlight-13:
The trailer is relatively faithful to the original teaser that's been making the rounds on social media and every major movie website on the Internet.
The thing is, this time around, we actually see how gamers have used the create-a-character options from GTA Online to make slightly more faithful recreations of the cast. The 3D Craig looks (at least) a little bit like his real-life counterpart, along with Naomie Harris.
If you're curious about how close to the original trailer the GTA V edition is, check out the official teaser trailer for the upcoming Bond flick below.
They're getting there... they're getting there.
In GTA IV there were a lot of complex tools at the gamers' disposal to make more intricate videos. Check out the Need For Speed movie trailer or the recreation of the E3 trailer for The Crew to see what I mean. Console owners don't have the Rockstar movie maker tools at their fingertips, so everything you see was made with manual camera edits and multiplayer positional tracking. It makes filming some sequences a real pain, as indicated in the Terminator 2 aqueduct chase scene that was remade in Rockstar's open-world action title.
I can't wait for the proper mods to drop (or get ported over from GTA IV). We'll probably see a proper trailer for The Avengers: Age of Ultron in GTA V. And maybe we'll get something a little more complex like the trailer for Terminator: Genisys.
In the meantime we'll just have to enjoy the trailers that are coming out of the gaming community. GTA V will arrive on the PC on April 14th. If you still need more 007/Grand Theft Auto action, be sure to check out the Skyfall train scene reenactment.
Your Daily Blend of Entertainment News
Staff Writer at CinemaBlend.
Your Daily Blend of Entertainment News
Thank you for signing up to CinemaBlend. You will receive a verification email shortly.
There was a problem. Please refresh the page and try again.