Joymax Strikes Back Against The Bots In Silkroad Online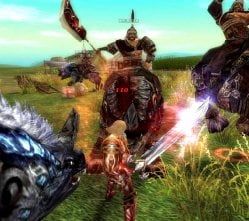 Anyone who frequently plays MMORPGs may know about a few of the titles that Joymax distributes to various regions: Deco Online, DarkEden Online and Silkroad Online. Anyone who has played the titles also know that Joymax games are riddled with hackers, account thieves and bots. Well, the JM is changing their policy on bots (computer controlled players who grind for players) and they are going all terminator on player accounts using bots.
Jina Song, General Manager at Joymax commented in the press release, saying…
Thank you! While the company has lacked off in addressing many of the issues plaguing their games, at least Joymax is getting back on the corporate bandwagon of providing some sort of acknowledgment to alleviating the problems in Silkroad.
In addition to policing the Robo-bots on Silkroad, Joymax also announced that they will be hosting a number of events to help reestablish player communities and server activity.
Way to go Joymax, now all you need to do is clean up the hackers in Deco Online and DarkEden and maybe your player base will return. If you want to check out Silkroad Online, the ancient Chinese-themed MMORPG by visiting the Official Website.
Staff Writer at CinemaBlend.
Your Daily Blend of Entertainment News
Thank you for signing up to CinemaBlend. You will receive a verification email shortly.
There was a problem. Please refresh the page and try again.