NYCC: Losing Publisher Actually Helped Ghostbusters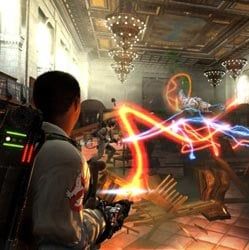 When a publisher drops a game, particularly a game late in development, it puts developers into a bind. They'll end up moving onto other projects while searching for someone - anyone - to come in and publish their product. Sometimes the new publisher just ends up dumping the game in stores with zero marketing. However, the upcoming multi-platform Ghostbusters game seems to have benefited from being dumped by their original publisher.
At New York Comic Con, Blend Games had the chance to talk with Josh Parker, Effects Designer for Red Fly Studios (developer of Wii and PS2 versions of Ghostbusters) and learn about the aftermath of Vivendi's decision to drop the game. Vivendi merged with Activision this past Summer to form Activision Blizzard and Ghostbusters was one of the casualties of the company's efforts to trim down its publishing portfolio.
The months between the loss of the original publisher and the acquisition of a new one - Atari - gave them some time to reflect on the game. When Atari signed on to publish the game, they asked the developers what they'd like to change about the game. Parker stated that they prepared a long list of issues they wanted to address, such as awkward story-telling moments.
"We only expected to get 10% [of the changes to be implemented]," said Parker. "But we got all of them!"
Losing their initial publisher mean that the Ghostbusters game missed its initial Halloween release. Though that would've been an appropriate release day, it also would've meant they'd be shipping the game into a very crowded holiday market. Their new release date is June 16th, which is - how perfect is this - the same day that Sony is releasing the original film on Blu-ray in commemoration of the 25th anniversary of the movie's theatrical release.
Obviously most games that lose their publishers don't fare this well. Parker acknowledged this was a "once in a lifetime" situation. Good to see that games can occasionally survive getting ditched by its publisher, though.
Staff Writer at CinemaBlend.
Your Daily Blend of Entertainment News
Thank you for signing up to CinemaBlend. You will receive a verification email shortly.
There was a problem. Please refresh the page and try again.