PS4 Sales Dive Horribly In Japan, Gets Outsold By PS Vita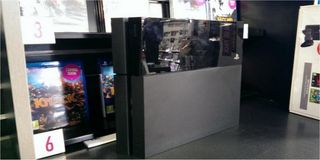 Uh oh. Is the honeymoon over? Is all that sexy-time hype fading? Are the sparkle in the eyes of the marketing campaign of "greatness" dimming? Has the shooting star ran out of its cosmic sales dust to propel it through the economic space? Are the hardcore 'roids wearing off in the face of the casual audience? In Japan, I would say 'yes'.
DualShockers captured the numbers from the weekly Media Create sales data, indicating that the PlayStation 4's early sales momentum in Japan has died down quicker than Taylor Kitsch's career. The numbers aren't pretty and you can check them out below.
Vita – 25,017
3DS LL – 22,947
PS4 – 13,401
PS3 – 10,871
3DS – 9,091
Wii U -7,962
PSP – 2,892
Vita TV – 1,371
Xbox 360 – 276
Dat sales position.
Getting outsold by the Vita by nearly two-times is just sad. It's like getting your butt kicked by a one-legged man.
It's like looking at old-man-age wither down and wear out a once young and beautiful Hollywood actor, only to recognize that the fame and glory was never going to last forever.
Oh well.
What's embarrassing about this news is that the PlayStation 4 recently launched in Japan on February 22nd, just barely two months ago. There's also no longer an excuse for stock shortages (I would imagine), as Now In Stock shows a fairly healthy supply of SKUs being made available for Sony's fourth-generation home console, which fits in line with the prediction that the PS4's supply would be stable come April.
Of course, an argument can be made that the stock on the website shows availability in North America and not Japan, but I think an equally compelling counter-argument can be made that if the PS4 is widely available in North America, it should be available in ample supply over in Japan.
The next logical step in the summation of the poor sales is "Why?" I mean, how can the PS4 be losing in the weekly numbers to the PS Vita?
DualShockers points to the new VAT (consumption) tax increase over in Japan, going up from 3% to 8%, meaning it's more expensive to buy more expensive goods. Still, seeing the PS Vita climb up over the PS4 like some kind of small rat clambering over a wounded elephant is a jarring thing. I mean, the Vita has been dying ever since it stepped foot onto the market... it was like it stepped out of its house and got sniped in both its kneecaps.
Nevertheless, with a sparse selection of Eastern-centric software titles in its line-up, Japan's love of all things mobile and some dwindling growth in sales, the PS4's hot start in Japan is cooling off a lot quicker than anticipated.
With the launch of Mario Kart 8 right around the corner and pre-order sales going strong for the Wii U's exclusive racer, it's not entirely impossible that the Wii U could shorten its second-place position gap with the PS4 throughout the end of spring and the start of summer. The console wars just got re-ignited.
Oh, and "lol" to anyone who brings up the Xbox One's launch in Japan this September. Leave the fantasy talk at the doorstep of insanity, it'll be welcomed there with open arms.
Your Daily Blend of Entertainment News
Staff Writer at CinemaBlend.