Spider-Man Gets Two Fantastic Four Themed Outfits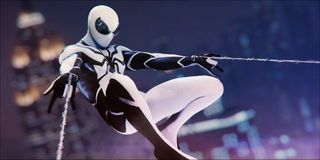 Beyond the scheduled DLC packs that Insomniac Games and Sony had planned to release for Marvel's Spider-Man, it appears fans of the game will be treated to some specially themed DLC based on other popular Marvel franchises, including two outfits from the Fantastic Four.
The news comes courtesy of an update over on the official PlayStation Blog, where it was announced that two new outfits have been added as part of a free update to the open-world, web-slinging action game. This includes a Bombastic Bag-Man outfit and Future Foundation suit for the friendly neighborhood Spider-man.
The Bombastic Bag-Man outfit is obviously a nod to the Fantastic Four costume from the classic comic book. Given that the Fantastic Four property has managed to make its way back into the good graces of Marvel after Fox had the media rights to it for a while, Insomniac decided to take advantage of it by including the Bombastic Bag Man outfit to the game in celebration of the recent comic book based on the four-hero quartet being written by contributor Dan Slott.
The outfit itself is based on Spider-Man's long-time history with the Fantastic Four, dating back to when it originally tried to join the team all the way back in The Amazing Spider-Man #258 where Spider-Man donned a Fantastic Four costume after he acquired the group's help to get the alien symbiote outfit off of him, which left him in his tighty whities and no mask. He was given the outfit so he wouldn't have to web-sling back him practically naked, but since they didn't have a spare mask, they gave him a bag to put on his head.
The other outfit on display – the Future Foundation costume – is from the time when the Fantastic Four were calling themselves the Future Foundation and donned black and white outfits. Spider-Man also managed to get himself in the mix with a black and white outfit as well.
Both outfits are free with patch update 1.14, and all you have to do is make sure the game is installed and your system is connected to the internet. Make sure you have a PlayStation Network ID that's properly signed into PSN, and presto! You'll be able to get your hands on the two new suits at no extra charge.
The suits join an already illustrious collection of cool suits featured in Marvel's Spider-Man, spanning the long-running comic book, television, and movie series, even Sam Raimi's highly beloved trilogy starring Tobey Maquire.
Previous to this update the game received a number of other slight patches, fixes, modifications, and upgrades, along with a healthy selection of DLC starring some of Spider-Man's most renown antagonists, such as Silver Sable and Black Cat.
Insomniac has basically taken a rather reserved approach to the DLC, giving gamers an outline of what was to come and how much DLC would be available for Marvel's Spider-Man. But beyond the paid content, the developers also wanted to treat gamers with some free content as well, including content based on the Fantastic Four. Some gamers believe this could be hints at something bigger coming down the pipeline featuring the four heroes, but that's all just speculation for now.
Your Daily Blend of Entertainment News
Staff Writer at CinemaBlend.