Pay As Much As You Want For Humble Frozenbyte Bundle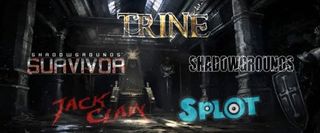 Humble Bundle Inc. has another "pay whatever you want" indie game bundle on sale. This time, it showcases the work of Trine developer Frozenbyte.
Trine, Shadowgrounds, Shadowgrounds: Survivor, Splot and Jack Claw are all up for grabs. Only the first three games are technically full products, though. Splot is still in development so you're effectively pre-ordering it, while Jack Claw is a prototype that was cancelled before completion.
You can pick up the bundle here (opens in new tab). As with previous Humble Bundle offerings, you can choose how much to pay and determine where your money goes. You can split your purchase money between Humble Bundle, Inc., FrozenByte, gamer charity Child's Play, and digital civil rights advocacy group Electronic Frontier Foundation.
So far the bundle has earned over $240,000. The average purchase was $5.16 and the largest was $1,024.
Staff Writer at CinemaBlend.
Your Daily Blend of Entertainment News
Thank you for signing up to CinemaBlend. You will receive a verification email shortly.
There was a problem. Please refresh the page and try again.