13 Great Horror Movies That Are Not That Scary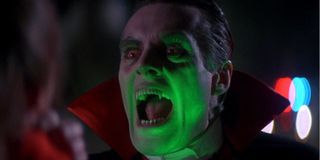 As the leaves begin to change, darkness falls dimmer to make the moon shine brighter, and the flickering flame of a jack-o-lantern can be seen at every doorstep. That is the sign that it is time for another Halloween movie marathon! Of course, understandably, even those who enjoy the spookiness of All Hallows' Eve do not particularly enjoy the spookiest of cinematic classics. Fortunately, there are plenty of horror movies that do not set out to scare as much as they provide a ghoulishly fun time for anyone.
If the claustrophobic ghost hunting dread of found footage gem Grave Encounters is too much for you to handle, Ghostbusters proves that researching and fighting paranormal activity can be fun. If you are in the mood for a cabin in the woods thriller but The Evil Dead makes you want to lose your lunch, lose yourself in laughter with the aptly titled teen horror send-up The Cabin in the Woods. If you cannot watch Robert Eggers' The Witch without holding a crucifix to the screen, the witchcraft practiced in the cult favorite Disney flick Hocus Pocus is far less threatening.
Those are just a few examples of movies that may help a newbie ease into more frightening film fare or lighten the mood when children (just not ones that are too young) are around. We have compiled 13 other classics that certainly qualify as horror, but are less likely to keep you up at night than your trick 'r treat loot, starting with favorite that introduced one of the most iconic, yet utterly ridiculous, villains in cinematic history.
Child's Play (1988)
A single mother (Catherine Hicks) begins to suspect that the unexplainable, deadly events happening around her are somehow strangely connected to the cheerful looking doll she recently bought for her son's (Alex Vincent) birthday.
How Scary Is It?: While he is still easier to look at than Annabelle, the bloodthirsty Chucky (voice by Brad Dourif) has been the most reliable name in possessed playthings since the release of the cleverly satirical and hilariously subversive slasher favorite Child's Play, which could have easily earned a PG-13 rating today if not for the killer doll's foul mouth.
Gremlins (1984)
A young man (Zach Galligan) learns the hard way that the set of vital rules required to safely raise his new furry pet will lead to disastrous, and even deadly, results if broken.
How Scary Is It?: Director Joe Dante's zany creature feature actually sparked controversy upon release from parents who expected something a little more "E.T." with producer Steven Spielberg involved, but if you go in with an understanding that beneath the cute little Mogwais are really reckless green monsters waiting to be unleashed, you can easily appreciate Gremlins as a cartoonish family-friendly romp that can be enjoyed anytime of year, especially Christmas.
Cloverfield (2008)
A group of New Yorkers' going-away party for their friend is interrupted by the sudden appearance of a large, violent beast terrorizing the city.
How Scary Is It?: If fun-sized monsters are not your kind of fun, Cloverfield has creatures of varying sizes (from one building-crushing giant to human-sized, multi-legged parasites) that, thanks to the its found footage-style, will feel especially realistic and all the more intense. However, the highest-running emotion in this Matt Reeves-directed hit, overall, is gloom, as the tragedy that befalls our main characters is sure to tug at your heartstrings.
Monster House (2006)
A young boy suspects that the house across the street is haunted, only to discover that it is actually the house itself that is haunting the neighborhood and vows to destroy it.
How Scary Is It?: While this animated, Academy Award-nominated adventure from producers Steven Spielberg and Robert Zemeckis may seem like another kids movie, I would more accurately put Monster House in the category of straight-up old-school B-movie horror (with a unique twist on the creepy house cliche) that just happens to have underage protagonists and is, by proxy, suitable for family viewing.
Trick 'R Treat (2007)
A school principal with a sinister secret, a group of teens fascinated by a disturbing local legend, and an elderly curmudgeon visited by one very committed trick-r-treater are among the several interwoven tales taking place one fateful Halloween night.
How Scary Is It?: Responsible for introducing the character Sam, who I believe should be the official Halloween mascot, Trick 'r Treat is a quasi-anthology horror favorite with a healthy dose light carnage that, coupled with its humorous and often whimsical tone, invokes feelings of Goosebumps if R.L. Stine allowed Stephen King to ghostwrite a few installments.
Creepshow (1982)
This collection of five increasingly odd and fantastic tales includes a man seeking revenge on his wife and her lover, a farmer who encounters a meteorite with truly transformative effects, and a germaphobic recluse who suffers his worst nightmare.
How Scary Is It?: Speaking of Stephen King, he and director George A. Romero teamed up to make Creepshow, which was essentially the ultimate horror-comedy anthology before Trick 'r Treat, but, out of love for the creepy 1950s comic books that inspired it, aims for fun shlock more often than genuine fright.
Coraline (2009)
A disillusioned young girl (Dakota Fanning) finds a refreshing, magical world existing beyond a secret passage in her new house, only to discover that it is not the enchanted paradise that it seems.
How Scary Is It?: Well, coming from the mind of author Neil Gaiman, Coraline is about as frightening as the PG rating will accept, courtesy of stunning, stop-motion fantasy imagery helmed by The Nightmare Before Christmas director Henry Sellick that greatly appeals to any young Tim Burton fans.
Beetlejuice (1988)
Recently deceased and annoyed by the snobbish socialites who have moved into their house, a couple (Alec Baldwin and Geena Davis) enlists a self-proclaimed bio-exorcist (Michael Keaton) to help take back their home, only to immediately regret summoning him.
How Scary Is It?: Speaking of Tim Burton, the one film that best represents his signature directorial style is Beetlejuice, which could have been a more run-of-the-mill ghost story if not for its twisted visuals invoking Dr. Seuss on acid and the rapid-fire wit of Michael Keaton's brief, but unforgettable, performance in the title role that makes it in the ultimate in bizarre, comedically spooky thrillers.
The Lost Boys (1987)
Two bothers become involved with a gang of mischievous bloodsucking bikers, with the older sibling (Jason Patric) drawn into joining them and the younger one (Corey Haim) inspired to hunt them, in a coastal California town.
How Scary Is It?: Directed by Joel Schumacher, The Lost Boys is still often regarded today as one of cinema's finest vampire stories for its unique modernization of Bram Stoker-pioneered lore partially, and humorously, told from a child's point of view that, despite its R rating, makes it a great introduction to the classic horror creature for younger viewers - perhaps 13 and up.
The Faculty (1998)
A mismatched group of high school students have no choice but to trust each when they discover that a parasitic alien is the cause of their teachers' odd behavior, and the invasion is only beginning to spread further.
How Scary Is It?: Kevin Williamson combined the xenophobic paranoia commentary of Invasion of the Body Snatchers with the archetypical teenage character tropes of The Breakfast Club in his screenplay for The Faculty, to which director Robert Rodriguez applied shameless levels of B-movie cheese for film that is best described as a fun, comical time capsule of '90s teen angst meagerly disguised as cosmic horror.
Happy Death Day (2017)
A grossly conceited sorority girl (Jessica Rothe) is forced to relive her birthday over and over again until she can identify the masked assailant who keeps resetting the loop by murdering her.
How Scary Is It?: In yet another horror comedy that borrows elements from familiar favorites (but set in college, this time), Happy Death Day is one of Blumhouse's least scary releases, but easily one of its most entreatingly clever features and may, arguably, even be its funniest.
The Monster Squad (1987)
A group of youngsters see their obsession with classic horror movie villains finally pay off when an assortment of frightening creatures led by Count Dracula begin wreaking havoc on their town.
How Scary Is It?: This PG-13 adventure from Shane Black and Fred Dekker is often compared to 1985's The Goonies, which I would actually cite as a genuinely more intense thriller than The Monster Squad, despite being a love letter to old school horror that captured the hearts of millions who still rave about it into adulthood.
Scream (1996)
A young woman (Neve Campbell) whose mother was the victim of an infamous slaying fears the same fate when a masked murderer begins attacking her classmates and other local citizens.
How Scary Is It?: After the heart racing opening scene with Drew Barrymore, it becomes relatively easy to get through Scream, a Wes Craven classic that revitalized the slasher trend in the mid-90s and also serves as a perfect introduction to sub-genre for satirical send-ups of its most notorious tropes.
What do you think? Have we compiled the perfect assortment of horror films for the non-horror fan to enjoy, or are you already trembling by the mere description of these movies? If that is the case, be sure to check back for additional information and updates on movies and TV shows that are hopefully more successful in keeping you calm, as well as our own suggestions for those who do crave the most extreme scares possible, here on CinemaBlend.