WWE 12 Predator Technology Drastically Improves Gameplay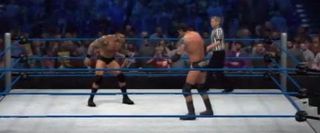 For the longest, gamers have been complaining that WWE Smackdown Vs Raw annual outings have been too similar to each other and that not enough innovation has been implemented into each outing (similar to the complaint that Activision is now receiving with Call of Duty games). Well, THQ and Yukes went back to the drawing board for their latest WWE video game, except this time around a huge overhaul has been undertaken with the brand new Predator technology.
As you'll see in the video walkthrough below, the moves, the wrestling styles and the presentation have all been vastly overhauled to represent an entirely new kind of wrestling gameplay experience. Don't just take my word for it, though, check out the new video below.
As you can see, if you were a fan who became tired of the lackadaisical approach Yukes was taking each year with the annual WWE video game outings, you at least have to admit that this year's iteration doesn't just look like a completely new experience it looks straight-up fun. The new physics-engine is the thing that really has me sold over, especially with the impromptu tag-team maneuvers. That's really, really cool.
If they have a decent create-a-character attached to WWE 12 it might be possible to reunite Sabu and RVD and pull off some of those death-defying tag-team moves they used to administer back in the golden-age of ECW.
You can look for WWE 12 to launch for the Xbox 360, PS3 and Wii on November 22nd later this year. Need more info? Feel free to visit the Official Website.
Your Daily Blend of Entertainment News
Staff Writer at CinemaBlend.