Why Far Cry 4's Villain Has A Pink Suit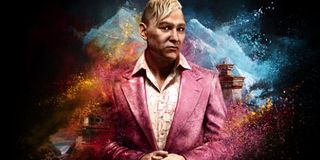 Far Cry 4's villain Pagan Min is probably the only villain that could be spotted from orbit thanks to his ugly pink suit. Executive producer Dan Hay revealed in a new interview that there's a good reason for Min's sartorial decision.
The development team set out to surprise players with FC4's villain. They want Pagan Min to be more sophisticated and charming than the usual video game antagonist. The suit's part of that mission. It's also a part of his backstory.
"Pagan Min wears that suit as an homage to his mom," Hay told UbiBlog. "So when you're making fun of the suit, you're making fun of his mom. And I would not make fun of Pagan Min's mom."
I really hope we get a chance to make fun of Pagan Min's mom. Far Cry 4 lets us blow up elephants so a dedicated "tell 'yo mama' joke" button doesn't seem outside the realm of possibility. Being able to insult characters' mothers would just cement FC4's status as an Asshole in the Himalayas Simulator.
Hay also talked a bit about Ajay Ghale, the player character. Ajay hasn't been to Kyrat since he was a child so he knows about as little about the region as we do. However, Kyrat's inhabitants do know Ajay in a sense. His family name is well-known for some reason.
"Everywhere you go people are like 'okay, I know who you are,' and you don't even know who you are. The game is a reflection of that."
Ajay's unexpected fame might have something to do with his mother. The reason he's returned to Kyrat is to scatter her ashes. They could tie that personal mission to the wider story by revealing some secret past of Ajay's mom. Maybe she was part of the resistance to Pagan or belonged to the same Rotary Club as his mom.
Whatever Ajay's connection to Kyrat and Pagan Min is, he's got his work cut out for him in Far Cry 4. Min has been in charge of the region for 20 years and has a vast army at his command. His domination of Kyrat is so complete, Hay says, that his face is even on the money.
Far Cry 4 will hit PS3, Xbox 360, PS4, Xbox One and PC on November 18th. If you like Pagan Min's suit, you can opt for the special Kyrat Edition. The pricey bundle includes a 7.9 inch figurine of the self-appointed king and a propaganda poster extolling his virtues.
Your Daily Blend of Entertainment News
Staff Writer at CinemaBlend.