The 2 Things You Can't Do If You Want To Be An Actor In China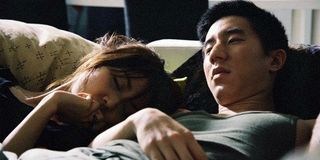 Who knew that the Chinese were so strict? As part of Beijing's on-going moral crackdown, any actor who has a history of drug use or has been involved with prostitution will now be automatically banned from appearing on film or television.
This decree has been made by the state administration of press, publication, radio, film, and television -- or, more simply put, the SARFT. They have now ordered cinemas across the country, as well as television stations, to stop showing movies that star individuals with "morally dubious" pasts. What constitutes "morally dubious" in China's eyes though? Apparently socializing with ladies of the night and smoking marijuana, to start with.
According to The Guardian, the move was made after Jaycee Chan, the son of the legendary martial arts star/Chris Tucker's best friend, Jackie, was arrested in mid-September for smoking marijuana at his home with several of his friends. But he isn't the only one to have supposedly shamed his family and country with his antics. Huang Haibo and Wang Quan'an, an actor and director respectively, were arrested in May and September after they were suspected of trying to have sex with prostitutes.
This stringent regulation was first teased back in June when President XI Jinping declared that illegal drugs should be wiped out and that any offenders be severely reprimanded. Since then, various organizations have been on the lookout to implement this rule, and now the SARFT have joined the party. They've insisted that their decision was reached because the aforementioned trio have "corrupted the social atmosphere" thanks to their vile behavior, which has also caused a "detrimental influence on the development of many young people." Ouch. Still, at least Jaycee can say that his dad is tougher than everyone at the SARFT's dads.
The BBC reported that 31-year-old Jaycee Chan and 23-year-old Taiwanese movie star Kai Ko were originally detained back in August on drug-related charges. They also both went on to test positive for marijuana, and over 100 grams of the drug were found at Chan's home. The arrest even affected Chan's legendary father, Jackie Chan, as Beijing police later confirmed that the Shanghai Knights star had been put under "criminal attention" for the crime of "providing shelter for others to abuse drugs." It's not known if any extra charges will be brought against him for crime against cinema because of his involvement in Rush Hour 3, though.
My first train of thought is that the Chinese government are just being party poopers. Aren't actors allowed to have a little fun and blow off some steam? While China has been able to take this approach to their own mischievous actors, they're not expected to stop broadcasting films that feature Hollywood stars, right? Because if they did, there wouldn't be too much left available for China's citizens to watch, as most of the actors who populate American movies are saucy little devils. Except for Judi Dench. She's perfect.
Your Daily Blend of Entertainment News