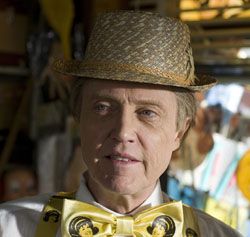 Hollywood old dogs Morgan Freeman, William H. Macy, and Christopher Walken are teaming up for what can only result in a "quirky" comedy called The Lonely Maiden.
Penned by Michael LeSieur (You, Me and Dupree) the three veterans will play security guards in an art gallery who become rather overly attached to the pieces in their care. When it's announced that the collection is to be transferred to another gallery, the three plot to steal the art back to it's original home.
For once I'll be glad to see some old hands in the comedy market, instead of just playing second fiddle "ironic" roles next to the likes of the Frat Pack or Adam Sandler. You, Me and Dupree was hardly a comedy classic, but it provided enough funny moments to make it enjoyable. Even with Garfield director Peter Hewitt in the director's chair, with a cast list like this (if they don't resort to phoning it in), the results will be nothing if not watchable.
Not much more detail at present except that shooting starts in November, but it's safe to say we can probably expect a lot of nervous ticks from Macy, a rousing speech from Freeman, and probably a jaunty musical tap number from Walken.
Your Daily Blend of Entertainment News