Alexis Bledel Is Saoirse Ronan's Hitgirl Partner In Violet & Daisy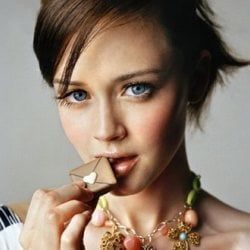 Believe it or not, Alexis Bledel is 29 years old as of September 16, and yet the Gilmore Girls star looks like she'll be getting consistent work playing a teenager until her mid-40s. The latest role to come her way is opposite Saoirse Ronan in Violet and Daisy, in which we're assuming Bledel will play a fellow teenage hitgirl on a mission that seemed easy but gets extremely complicated. Variety doesn't specify which role Bledel will play, but with shooting starting next week in New York, odds are she's snagged that second lead.
James Gandolfini is also starring in the film, presumably as yet another spin on the Tony Soprano gangster figure, with Precious writer (and Oscar winner) Geoffrey Fletcher writing and directing. After hitting what was to be career rock bottom with the intolerable comedy Post Grad, Bledel has been popping up all kinds of unexpected places, from a small role in Robert Redford's The Conspirator (which debuted in Toronto and is coming at some point next year) and now as a teen assassin. I've never exactly bought her as a especially talented actress, much as I may like the Sisterhood of the Traveling Pants series, but good on her for keeping that teen dream alive even as she pushes 30. We should all be so lucky to stay young forever.
Staff Writer at CinemaBlend
Your Daily Blend of Entertainment News
Thank you for signing up to CinemaBlend. You will receive a verification email shortly.
There was a problem. Please refresh the page and try again.