Amy Adams Fights Pedophiles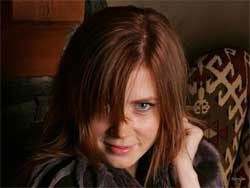 Plucky Talladega Nights love interest and sex-tigress Amy Adams may soon put on a habit to play a nun. The Hollywood Reporter says she's negotiating to join the cast of a movie called Doubt, based on a Pulitzer Prize-winning book. Even though I know Pulitzer is pronounced Pyoo-lit-zer in my head I still hear Pull-it-zer every time I read it. You can take the boy out of the trailer park but you can't take the trailer park out of the boy I guess.
The movie based on a book which won an award I can't properly pronounce, is about a nun in a tense confrontation in which a Bronx Catholic school principal accuses a priest of being a pedophile. He's a priest, that's probably all the evidence she needs. Meryl Streep is already on board as the Catholic school principal, and Philip Seymour Hoffman has been cast to play the boy-loving man of god.
The interesting thing here is that it's supposed to be a period piece, set in the 60s. And you thought priests started diddling kids in the 90s! Apparently they've had horrifying things going on under their robes for decades.
Your Daily Blend of Entertainment News