Anjelica Huston And David Thewlis Join Milla Jovovich For The Winter Queen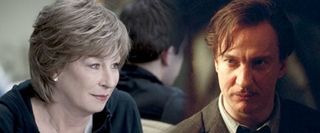 What would cause a promising student from an affluent family to shoot himself before the crowds of Moscow's Alexander Gardens? This is the question posed to Erast Fandorin, a young, charming and untested member of the Criminal Investigation Division of the St. Petersburg Police. His winding investigation set in 1876 Russia is the driving force of Boris Akunin's internationally best-selling detective novel The Winter Queen, which is on its way to being a star-studded mystery movie.
Coming Soon reveals Seven Arts Entertainment has not only secured Resident Evil star Milla Jovovich to headline, but also has scored Anjelica Huston, who most recently won acclaim for her part in the cancer dramedy 50/50, and David Thewlis, who is best known as Professor Remus Lupin of the Harry Potter franchise. Jovovich is slated to play Lady Amalia Bezhetskaya, a gorgeous femme fatale. Huston will portray Lady Astair, an English noblewoman who runs the Astair House, a branch of schools for orphan boys, while Thewlis will play Count Zurov, an Army officer and associate of Lady Amalia. At this time, there is no word yet on who will play the protagonist, Fandorin.
The Winter Queen marks the English-language debut of Russian actor turned director Fedor Bondarchuk, who has previously helmed the sci-fi action-adventures Obitaemyy ostrov, and Obitaemyy ostrov. Skhvatka. Bondarchuk's latest film, the recently wrapped World War II drama Stalingrad is expected to hit theaters this year. Production on The Winter Queen will begin in April.
Staff writer at CinemaBlend.
Your Daily Blend of Entertainment News
Thank you for signing up to CinemaBlend. You will receive a verification email shortly.
There was a problem. Please refresh the page and try again.