Milla Jovovich Shares Thoughts On Possibly Returning To The Resident Evil Franchise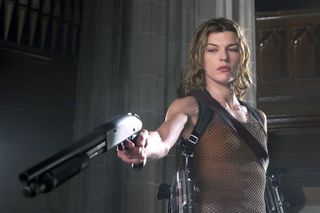 After spending 15 years starring in the Resident Evil films, Milla Jovovich will not be appearing in this year's newest installment. For many fans, it may be hard to imagine the popular horror movie franchise without the actress -- regardless of how cool the cast of Resident Evil: Welcome To Raccoon City may be. If you're feeling down about the prospective future of the series without her, all is not lost, though. Milla Jovovich recently shared her thoughts about returning to Resident Evil in the future, and it doesn't sound like she's completely opposed to the idea.
Milla Jovovich ostensibly became the face of the Resident Evil franchise when it launched in 2002. Though Paul W. S. Anderson's films are based on the video game series of the same name, Jovovich's character, Alice, was created specifically for the live-action adaptation. She played the character in the first six films, making her final appearance to date in 2016's Resident Evil: The Final Chapter. While her character survived to the film's closing credits, Jovovich wasn't announced as part of the cast for Johannes' Roberts' upcoming reboot.
That's okay, though, because it sounds like Milla Jovovich may not be done fighting the Umbrella Corporation after all. When our sister publication SFX Magazine asked the actress if she'd consider reprising the role in the Resident Evil franchise, she shared her thoughts:
What Milla Jovovich is referring to is the the upcoming Netflix project and, while it doesn't sound like she's on board yet, her enthusiasm definitely provides a bit of hope for future Alice appearances. That's definitely good news, and it could help drum up enthusiasm for the Netflix adaptation, which is being helmed by Supernatural showrunner Andrew Dabb. It could also provide an opportunity for the new series to further blend the cinematic world of Resident Evil with that of its source material.
We don't have too many details about the upcoming series, so it's not clear if, or how, Alice might fit into the picture. We do know that the Resident Evil Netflix adaptation will feature two separate timelines, one of which follows teenage twins Jade and Billie Wesker through a pre-zombie apocalypse journey in Raccoon City. The second timeline will take place 16 years into the future and focus on a now-adult Jade. Whether or not Milla Jovovich's Alice would fit into that second timeline remains to be seen, but the important part is that it's not out of the realm of possibility.
And even though the chances of it happening may seem slim right now, maybe Alice could one day find her way back to the big screen. Milla Jovovich's character became a pop culture icon, and the fan-favorite heroine is technically still alive in a cinematic continuity. While we love seeing the actress fighting monsters in all their various incarnations, seeing her back in the Resident Evil timeline would undoubtedly be a dream (nightmare?) come true.
Your Daily Blend of Entertainment News
Thank you for signing up to CinemaBlend. You will receive a verification email shortly.
There was a problem. Please refresh the page and try again.