Arnold Is Not Doing Predator 3, Get Over It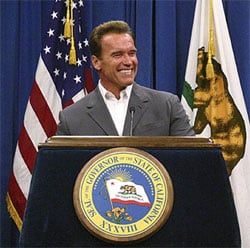 We've really got to let it go. Arnold Schwarzenegger is done with action movies. It's not just that he's too old, he's also much too busy. He's having more fun hobnobbing with the bigwigs of the Republican party. Even though there's almost certainly no way we'll ever see him in another movie, much less a sequel to one of his old movies, rumors of his return to pumping up persist.
Here's the latest in the no way Jose Schwarzenegger rumoring. Hecklerspray says Arnold may do Predator 3. They base this on a tidbit of information from former Predator producer John Davis who says he wants to resurrect the franchise and bring Arnold back. Well of course he does, the Predator movies have made a lot of money over the years and another one with Arnold, even an old and wrinkly Arnold would go a long way towards further lining his pockets with platinum. Just because an aging producer has been fantasizing while smoking a hookah doesn't mean that his pipe dreams are happening.
Hecklerspray though, tries to make the case that it's now in vogue for aging action stars to revisit their old characters. After all, Stallone is doing more Rambo and Rocky, Bruce Willis is back playing John McClane. Says Hecklerspray, "But there's one action star who hasn't chosen to do that - Arnold Schwarzenegger." I guess they haven't watched Terminator 3.
Davis does claim that he's spoken to Arnold, and that Arnold has wistfully told him he'd like to do a couple of movies when he's done playing Governor. That's pretty thin ice to base a Predator rumor on though. Maybe he'll come back, but until he's out of office Schwarzenegger has no movie career and the constant rumor and speculation in which we all pretend he does is getting ridiculous. Get over it.
Your Daily Blend of Entertainment News