Awkward: Watch Jeff Bridges Visit A Big Lebowski Store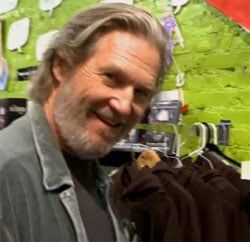 What do you do when the Hollywood actor whose likeness you've been profiting off of without his permission, actually shows up at the front door of your marginally legal t-shirt operation? You stand around and look really awkward about the whole thing. Or at least that seems to be what's going on in the video I'm about to show you.
I have no data to actually indicate that the guy behind the register of this Lebowski merchandising shop called "Little Lebowksi" truly is up to anything nefarious, but he sure doesn't seem comfortable with the Dude actually hanging out in his shop. The moment embedded in the video below happened as part of an episode of PBS's American Masters in which Jeff Bridges is featured and in the course of talking about his role in The Big Lebowski they visit a shop that sells Dude-merchandise and that, for some reason, seems particularly proud of stocking blowup dolls that look like Maude. Watch as the Dude abides capitalism:
The 90-minute American Masters feature on Bridges aired tonight, January 12th, on PBS. They'll be re-airing it this weekend. If you missed it, check your local listings.
Your Daily Blend of Entertainment News
Thank you for signing up to CinemaBlend. You will receive a verification email shortly.
There was a problem. Please refresh the page and try again.