Check Out The Logo For Pixar's Monsters University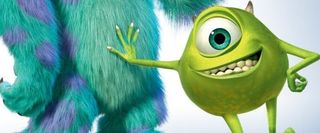 When Disney announced at Cinema Con last week that their second in-the-works Monsters Inc. film would be a prequel called Monsters University, they also unveiled the logo to go with the film. Now that logo has made it online thanks to the sleuths at Pixar Blog, who dug up the image after Disney registered it with the Patent Office. Check it out below.
We don't know much about the movie yet, beyond the fact that longtime Pixar animator Dan Scanlon will be directing, and Billy Crystal and John Goodman will be back to voice Mike and Sully as the two monsters meet in training school in their younger days. It's set for a fall release next year. Yes, it's going to be yet another effort at a franchise from Pixar, which just made Toy Story 3 and has Cars 2 coming this summer, but let's be honest-- Monsters Inc. was so good it could possibly be a Toy Story 2 kind of quality situation. Then again, this logo is relatively unimaginative-- really, the classic college font along with the original Monsters Inc. logo? Pixar still gets the automatic faith they've earned over the years, but I'm still waiting to see something that argues a second Monsters Inc. is more worthwhile than an actual original Pixar film.
Staff Writer at CinemaBlend
Your Daily Blend of Entertainment News
Thank you for signing up to CinemaBlend. You will receive a verification email shortly.
There was a problem. Please refresh the page and try again.