Clark Kent's Speedy Striptease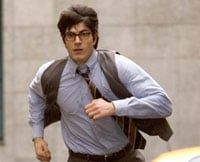 It's just not possible to get enough of Superman Returns. Every week we end up with new images from the upcoming Bryan Singer film and every single image delivers.
This new batch may be the best so far.
Ok, I'm not exactly sure what Kal Penn is doing looking at a toy train (he plays someone named Stanford in the movie), and a shot of Kevin Spacey as Lex Luthor makes him look a little like Doctor Evil dressed as a sailor. But the image (a cropped version of which is to your right) of Clark Kent running in mid-clothing change… that's magic. If you have doubts about Brandon Routh after seeing that, then you hate Superman. Go watch that other Brett Ratner movie instead.
To see all our newest Superman Returns images in fantastic high resolution, click here or on one of the thumbnails below:
Your Daily Blend of Entertainment News
Thank you for signing up to CinemaBlend. You will receive a verification email shortly.
There was a problem. Please refresh the page and try again.