Danny Trejo And Erin Cummings Get Caught In Tarantula's Web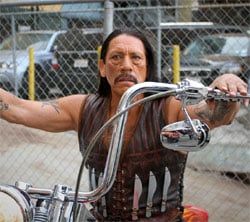 It's If anyone has paid their dues in Hollywood, it's Danny Trejo. He has nearly 200 acting credits to his name since 1983 and in those 200 appearances he's always been the support, never the front man, until Machete hit a couple weeks ago. Now it looks like he's looking to remain a leading man.
According to THR, the gravel-faced actor is nearing the end of negotiations to star in an "indie biker thriller" called Tarantula. We're not saying he's typecast as "that badass mexican dude on a motorcycle"...but he's certainly working his niche. The film focuses on a woman trying to break free of life in a biker gang, but having trouble finding escape. Along with Trejo, who will play the leader of the gang, Erin Cummings is about to ink her name as the female lead. Cummings recently spent some time in Spartacus: Blood and Sand and starred in Bitch Slap, which you can see my review of HERE.
Oley Sassone, who's been directing the shit out of TV shows you won't recognize since 1992 will be directing this as his first major motion picture since the 1994 low-budget, B-movie version of Fantastic Four. Tarantula already sounds like it'll have a B-movie, grindhouse quality and Trejo just cements that. There are other directions they could go with a biker thriller, but that's the most entertaining. No release date has been set, but they're looking to start filming soon with an ultra low-budget of $2.5 million.
Your Daily Blend of Entertainment News