Danny Trejo And Vinnie Jones Are Welcomed To Graveland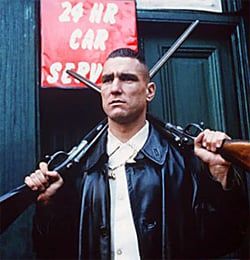 Tammi Sutton's "outlaw biker indie" Welcome to Graveland has been chugging along since the end of last year and has just added another couple of tough guys to its cast. Hyper-English Guy Ritchie go-to guy Vinnie Jones will be starring alongside Machete himself, Danny Trejo.
The news comes via the Production Weekly Twitter account so details on their roles in the film is very limited, but knowing those two will be in it should be enough to pique your interest pretty hard. The film is about a female biker on a quest for vengeance in a world where roles are reversed--men are the weaker companions and the "objects of desire and conquest", according to the Examiner. The term "submissive" is used in describing these companions, but that word doesn't describe Trejo and Jones even a little bit, so I am more convinced they'll play some sort of rough necks or desert thugs a la Mad Max.
With Machete wrapping up for Trejo, and a slew of films winding down for Jones, their schedules should free up after the next month or so to make room for Welcome to Graveland. Expect to start seeing more from this film over the summer.
Your Daily Blend of Entertainment News