Dreamworks Animation 2013 Comic Con Panel Live Blog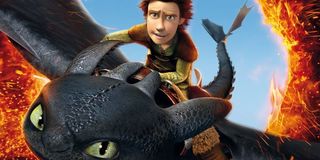 The hordes who attend Comic Con every year might be fueled by star power, but sometimes, panels involving those who work behind the cameras are actually just as riveting. In theory, that should be the case here as Dreamworks Animation Filmmaker Focus brings together the company's COO Bill Damaschke with directors Dean DeBlois (How To Train Your Dragon 2), David Soren (Turbo) and Rob Minkoff (Peabody & Sherman) to talk about "putting a great story through the animation process".
That official descriptor might be a little vague, but in some ways, that's a good thing. I like my panels to be a little looser with plenty of room for lengthy, impromptu discussions and behind the scenes stories. I'm currently liveblogging from inside Room 6A. The discussion is expected to be moderated by Anthony Breznican from Entertainment Weekly, and, of course, there's always the chance we could see someone else Dreamworks related.
The panel runs from 11:45-12:45 PST. Continue refreshing the page for a blow-by-blow rundown of what's happening live.
Here we go....
11:47 AM: Nervous people are milling about in the back of the room hoping there's still one more terrible seat somewhere in the middle of a row. The ushers have changed out the last panel's bathroom passes and picked up new blue ones. That means we're moments away from starting...
11:49 AM: All of the panelists were just introduced, and luckily, everyone bothered showing up.
11:50 AM: Can you guess who got the biggest round of applause? How To Train Your Dragon 2 director Dean DeBlois, obviously.
11:53 AM: Director David Soren is discussing how he Turbo came to be. Dreamworks offered a one-time only competition for all employees to pitch a one page idea. The night beforehand, he quickly threw together a concept he coined Fast & Furious with snails, and it won the entire competition. They bought the idea, let it simmer for more than five years and when Soren and his family moved into a new home with a backyard infested with snails, he pushed for the idea and got it back on the fast track.
11:56 AM: Dreamworks is showing a clip from Turbo, which opened wide just yesterday. I saw it, and it is has its moments. This clip, featuring the original snail race, is among the best they could have chosen.
11:59 AM: WHAT THE WHAT? David Soren is describing the background research he did on snails. They're apparently all hermaphrodites! Why didn't I learn about this in science class? Not surprisingly, Dreamworks was very clear he should not talk about that.
12:01 PM: Rob Minkoff is talking about how much he loved Rocky & Bullwinkle as a child. He's very passionate about Peabody & Sherman, which is probably a good thing since he directed the upcoming movie.
12:03 PM: They're showing a clip from Peabody & Sherman. The action is chaotic. Peabody is about to get decapitated by Maximilien de Robespierre during the French Revolution when he uses his wacky science genius to reflect light, escape his predicament and Shawshank Redemption his way to freedom. It's straight up awesome. I was 0% excited about this movie before seeing this clip, and now, I can promise you I will see it.
12:07 PM: Way more people are in Peabody & Sherman than I thought. Stephen Colbert, Leslie Mann, Ty Burrell, Ellie Kemper, Stanley Tucci!
12:09 PM: Director Dean DeBlois told the studio he would only make a sequel to How To Train Your Dragon if he could do three total movies. That would allow him to tell a story he actually cared about.
12: 11 PM: The biggest inspiration for Dean when he sat down to make this film? Empire Strikes Back. Interpret that however you'd like.
12:12 PM: How To Train Your Dragon 2 begins 5 years in the future. Hiccup is trying to figure out who he's going to be as a person, and while his issues were largely solved after the first movie, new ones have been created since.
12:15 PM: DeBlois is showing a clip from How To Train Your Dragon 2. Hiccup has definitely aged, but he's still fundamentally the same person. He's flying alongside Toothless in the footage, looking to map the surrounding area. Not surprisingly, some shit breaks, a crash happens and the two have a pretty hilarious argument over fault. It's just as well put together as what we saw the first time around.
12:22 PM: We're on to a more roundtable format with rapid fire questions.
12:23 PM: David Soren really relates to the scene in Turbo in which the main character is devastated seeing the looks on his friends' faces when they think he might fail. He's seen that look plenty of times in the director's chain when things just aren't working.
12:25 PM: Rob Minkoff was attracted to Peabody & Sherman because he's a new father, and he loves the chemistry between the main characters.
12:26 PM: Dean DeBlois was very poor growing up. He used to sit in the backyard with one or two action figures making up stories in his head, and he's so happy he was able to turn that into a career.
12:27 PM: Bonus clip from HTTYD2!
12:28 PM: Holy Valhalla! This movie might actually be an Empire Strikes Back level of dark. Hiccup was just snatched by a gigantic dragon being ridden by a terrifying masked blue rider, and Toothless was knocked into the water. It's more intense than anything we saw in the first movie and caused a loud, blown away mudder here in 6A. The guy sitting behind me even said, "What the fuck?" when it was over--definitely in a good way though.
12: 34 PM: New casting for How To Train Your Dragon 2 ! 3 new significant characters.One is a ferrel recluse vigilante that's been out there rescuing dragons from traps. Her name is Volca. She's hidden away thousands of dragons and will be voiced by Cate Blanchette. The aforementioned villain from a strange land seen in the clip is named Drago Bloodfist. He's played by Djamon Honsou, and he's assembling an army of dragons. And finally, there's a self-declared world's greatest dragon trapper. He's very brazen. He'll be voiced by Kit Harrington from Game of Thrones who is here! Crowd is going nuts.
12:39 PM: Harrington says playing this character is a lot of fun because he's so much different than John Snow. He's completely sure of himself, and he has a swagger to him.
12:44 PM: And we're out. Thanks for sticking around guys. The panel has officially ended. Check back all weekend for more live coverage of Comic Con here at Cinema Blend!
Enthusiastic about Clue, case-of-the-week mysteries, the NBA and cookies at Disney World. Less enthusiastic about the pricing structure of cable, loud noises and Tuesdays.
Your Daily Blend of Entertainment News
Thank you for signing up to CinemaBlend. You will receive a verification email shortly.
There was a problem. Please refresh the page and try again.