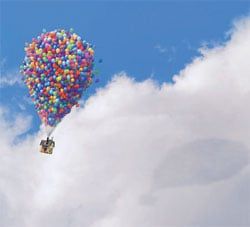 It's sometimes easy to forget how important the little things were to us as kids, how the happenings we take for granted as adults were the events we would lose sleep over in our younger years. We'd lie awake all night in anticipation of that trip to Disneyland the next morning, or we'd play for hours with that new Ninja Turtle toy that our mom got us to shut us up at Target. These days, it's so easy to write these things off, to wait in line for hours for that new iPhone, unwrap it, play with it for 15 minutes, then toss it aside to find another thing to occupy our brain.
Then there are times that remind us of just how important every tiny little detail is in our lives. As reported by The OC Register, Pixar was able to grant a little girl the one last little thing that in her eyes was everything. After being diagnosed with vascular cancer three years ago, it became apparent that 10-year-old Colby Curtin would not live long enough to catch Up in the theater, a movie she had been excited to see since she saw the preview. When Colby became too ill to be moved to a cinema, a family friend made calls to Pixar. A representative of the company then flew out with a DVD copy of the movie to show to Colby. When asked if she enjoyed the movie, she nodded.
Colby died just seven hours after the viewing.
It's so easy for me to get up caught up in making fun of bad ideas, whether it's the newest parody movie from the Wayans Brothers or the latest reboot of a classic series. Sometimes we all forget just how important, how truly life-changing art can be, especially film. Words can have a lasting effect on us. Images can make us change our ways. And I'm not sure that there aren't many things that me more happy and sad, simultaneously, than a little girl's dying wish to see a movie. To think, that's all she needed to be happy, to make her life whole at that moment. I could write about the symbolism forever, but nothing sums it up like her own words to her mother: "I'm ready (to die), but I'm going to wait for the movie."
Your Daily Blend of Entertainment News