Elijah Wood Will Play The Late Bloomer For WIlfred Director Randall Einhorn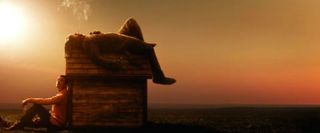 Television comedies are not known for being particularly cinematic. Sure, there are specific episodes within series that serve as exceptions to the rule, but for the most part the visuals are not really a sitcom's primary concern. FX's Wilfred, however, is not what you'd call a traditional sitcom but one of the the odd half-hours that revels in style - like Community or Spaced - with the inventive camerawork from series director Randall Einhorn perfectly complementing the Elijah Wood led 'story of a dog and his man.'
The series currently awaits word on a third season renewal, having just finished its second with the stunningly photographed episode titled "Secrets" (also check out the special preview called "Progress" for a great example of Einhorn's more interesting work on Wilfred). While they wait, though, the director and star are teaming up for a film. Wood is set to play the lead in The Late Bloomer, Einhorn's feature debut based on Ken Baker's memoir "Man Made: A Memoir of My Body," which tells his true story of a man nearing 30 years old who had still not gone through puberty. Yet.
Paul Kaplan and Mark Torgove, who worked on Spin City before more recently being attached to Mike Myers's defunct Marvin the Martian project as well as the big-screen remake of CHiPs, have been hired to rewrite Joe Nussbaum's adaptation of the material before the production begins early next year. It sounds like a great role for Wood, getting to go through that tough stage at a later time in life, not to mention at an accelerated rate once the condition preventing his physical maturity was addressed. And to see him play another physically stunted character, you can catch him reprising his role of Frodo for one of Peter Jackson's The Hobbit films-- though given that the trilogy is a prequel to Lord of the Rings, we don't know entirely how Frodo will fit in, or whether we'll spot him in this December's The Unexpected Journey.
Your Daily Blend of Entertainment News
Thank you for signing up to CinemaBlend. You will receive a verification email shortly.
There was a problem. Please refresh the page and try again.