Ethan Hawke To Be Seduced By Kristin Scott Thomas In Paris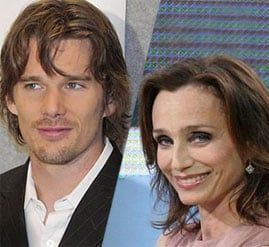 Ethan Hawke and Kristin Scott Thomas have never been blockbuster movie kinds of actors, leaning more towards indie movies or quirky niche art house stuff that debuts at Sundance. And why not? They're good at those types of roles and they get to play some great characters without all the Hollywood muss and fuss.
Now Variety reports that the two will team up for the first time, in a mystery movie helmed by a Polish director filming in Paris. Sounds right up their alley.
Hawke will lead in an adaptation of Douglas Kennedy's The Woman In The Fifth. The story follows Harry Ricks, a university lecturer who moves to Paris to start anew after an affair with one of his students turns incredibly nasty. Scott Thomas will co-star as Margit, a mysterious woman whose seduction of Ricks is quickly followed by the murders of people in Rick's recent past.
Pawel Pawlokowski, who most recently directed the heated My Summer of Love will direct. Filming is set to start next month. It hasn't been confirmed yet, but this movie is likely to be released exclusively in 2D. That's reason enough to see it.
Your Daily Blend of Entertainment News