Exclusive: Roland Emmerich Wants To Make Independence Day 2 Because Of Obama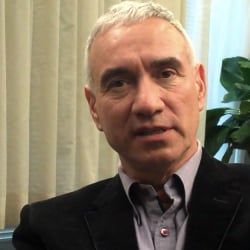 Last time we heard from Roland Emmerich about plans for a second Independence Day movie, he said that Fox was balking at putting up the money for Will Smith to be part of the film. At today's press day for 2012, I asked Emmerich both about the status of the funding and his reason for wanting to make the movie to begin with.
Emmerich had said not 10 minutes earlier, in a roundtable interview, that sequels were silly, but he says that Independence Day is different: "I think everybody has a defining moment or a defining film who works in this business. It's the one I think I will be remembered for. I kind of think it would be great to do."
As for why it's taken so long to get the sequel started, you can blame George W. Bush. "In Independence Day, it was about a king who leads his country into a fight against an outside invader. I didn't want to make that movie during the Bush years. It was not thought that George W. Bush would have made a great king. Now with Obama, it's another story."
He also confirmed that, as in the first film, the plot of Independence Day 2 would focus on the President and his efforts to lead the country. We know that Emmerich cast Danny Glover as the President in 2012 as a nod to Obama, but who knew the real President was the inspiration to bring Bill Pullman back as well?
In video below, Emmerich talks more about the funding troubles for the film and why Fox would hesitate to bring back Will Smith, even though Emmerich says plainly "I will not make the movie without Will Smith." He also talks about his plans to use new technology on the second film. Sounds like things are still at loggerheads in actually getting the movie going, but despite Emmerich's promise that 2012 will be his last disaster movie, we can probably count on Independence Day 2 coming along at some point.
Staff Writer at CinemaBlend
Your Daily Blend of Entertainment News
Thank you for signing up to CinemaBlend. You will receive a verification email shortly.
There was a problem. Please refresh the page and try again.