Independence Day Creative Team Recalls Fighting With Studio To Get Will Smith Cast In The Lead Role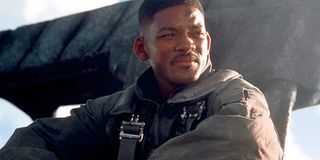 Independence Day is one of the most memorable movies of the '90s. It's terrifying, exhilarating and ultimately triumphant story of humans overcoming an alien invasion is so iconic that many fans still revisit the film every Fourth of July weekend. Part of what makes Independence Day so great is its pitch-perfect cast, including Bill Pullman as one of the best fictional presidents of all time, Jeff Goldblum and, of course, Will Smith. For the latter, Independence Day was a breakthrough career moment -- but it's one that almost didn't happen, because the studio wanted to cast someone else.
During the casting process for Independence Day, director Roland Emmerich, screenwriter Dean Devlin and the rest of the film's creative team had someone very specific in mind for the lead role of Captain Steven Hiller. Despite the fact that Will Smith was, at that point, mostly known for his hip hop career and his role on The Fresh Prince of Bel-Air, they felt certain that he was ready to lead their blockbuster-in-the-making.
There was just one problem. As Roland Emmerich told The Hollywood Reporter, the studio heads at 20th Century Fox wanted to cast someone else in the role:
Producer and co-writer Dean Devlin remembers the casting process similarly. And he did not mince words as far as what the studio's concerns were regarding casting Will Smith:
Roland Emmerich said that the disagreement over Smith's casting was not easily resolved, as the two sides went back and forth for a while. However, as Emmerich further explained, he refused to back down when it came to his vision for Independence Day:
Roland Emmerich, Dean Devlin and the rest of team that cast Will Smith were, as we all know now, on the right track. Independence Day was a box office smash, and Will Smith became one of the biggest movie stars in the world, thanks to his star-making turn.
While he chose not to reprise his role for the sequel, 2016's Independence Day: Resurgence, Will Smith has built an incredible film career, to say the least. He also went on to star in, among many other blockbuster hits, the Men In Black and Bad Boys franchises. He's also been nominated for two Academy Awards, which also proves his success in Independence Day was far from a fluke.
Your Daily Blend of Entertainment News