Finally! Peter Dinklage's LARPing Comedy Knights of Badassdom Is Coming To Theaters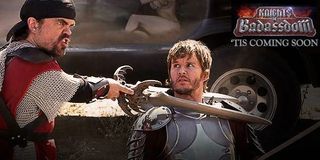 "There be monsters in need of pummeling!"
Oh yeeeeeeah! Guys, as devotees of all things Peter Dinklage, we've been waiting for the release of the LARP-centric comedy Knights of Badassdom for years. No, literally: years. But now Entertainment One has proved our hero, committing to distribute the film in theaters and on VOD. All that remains is for eOne to announce when we should don our best DIY battlegear and head to the movies.
It's been a long and arduous journey for Knights of Badassdom to win this theatrical release. Dinklage was attached to the project back in January of 2010. By that summer, True Blood hottie Ryan Kwanten, consummate character actor Steve Zahn, and Community's Danny Pudi were also signed on to co-star. At the time, Kwanten described the project as Shaun of the Dead meets Role Models." So, we were sold. But in case you still need convincing, here's the film's plot synopsis:
Knights of Badassdom went into production in Spokane, Washington in July of 2010. The following February IndieVest Pictures, which produced the pic, released a teaser image of Dinklage , who was about to take his badass reputation to a new level with the premiere of Game of Thrones. More images followed, but no new information on when the film might open theatrically. Then came the summer of 2011, and with it Knights of Badassdom took to San Diego Comic Con. There all of the cast mentioned above turned out, as well as It's Always Sunny in Philadelphia's hysterical Jimmi Simpson for a panel Q&A and premiere of the film's first trailer, a variant of which you can watch below:
And still no release date was announced. Their website promised a 2012 release, but it wasn't until January of 2013 that the trailer resurfaced, suggesting IndieVest was finally close to finding a distributor. And here we are! Knights of Badassdom will get a theatrical release…eventually. We're hoping eOne will end out anxiety by unleashing a release date soon. A new trailer would be nice too.
Staff writer at CinemaBlend.
Your Daily Blend of Entertainment News
Thank you for signing up to CinemaBlend. You will receive a verification email shortly.
There was a problem. Please refresh the page and try again.