Game Of Thrones: What Are The Cast Members Doing Now?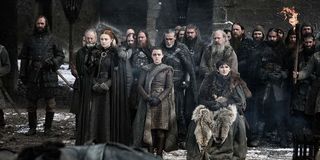 Game of Thrones is one of the most popular television series of the last 10 years. Game of Thrones already had a legion of built-in loyal fans because of George R.R Martin's equally popular A Song of Ice and Fire book series. The show became a massive pop culture hit; it broke HBO viewership records, made the cast household names, and received many TV award nominations. The series brought HBO so much success that the network plans to expand the world of Game of Thrones with a spin-off.
No matter how people feel about the final season of the series, Game of Thrones has carved its permanent place in the TV history books. It'll be a series that people discover and love for many decades to come. The Game of Thrones cast has gained lifelong fans who want to know the latest news on the actors who played the Starks, Lannisters, Targaryens, and all those in between.
Since Game of Thrones series finale, the cast members have remained busy booking gigs, starting families, and growing their empires.
Peter Dinklage (Tyrion Lannister)
Peter Dinklage played the wisecracking and resourceful Tyrion Lannister. Tyrion was shunned by his father Tywin (Charles Dance) and sister Cersei (Lena Headey), but had a close relationship with his brother Jaime (Nikolaj Coster-Waldau). Tyrion often found himself as an adviser for those in charge. He was an advocate for women and wine. Peter Dinklage won four Emmy awards for his work as Tyrion Lannister.
Following Game of Thrones end, Peter Dinklage returned to The Angry Birds Movie franchise by lending his voice to The Angry Birds Move 2. He also played a fictionalized version of himself in the Between Two Ferns movie. Dinklage has three confirmed projects in various forms of production. He'll appear with an all-star cast in I Care A Lot, a movie set for a 2020 release. It's about a legal guardian who learns her clients are deceiving her. The cast includes Rosamund Pike, Dianne West, Chris Messina, and Eiza Gonzalez. He'll also appear in The Croods 2 in December. His other project is The Thicket, a movie adaptation of Joe R. Lansdale's crime novel.
Lena Headey (Cersei Lannister)
Lena Headey as Cersei played one-half of the infamous Lannister twins. The woman who would be queen inherited her father's ruthlessness when combating enemies. Cersei hated everyone and everything, except her brother Jaime and her children. Lena Headey received several Emmy nominations for her Cersei Lannister portrayal, but never received the Emmy that she deserved.
In 2019, Lena Headey had a supporting role in the critically acclaimed movie Fighting with My Family. She starred opposite Nick Frost, Florence Pugh, and Vince Vaughn. She plays the mother to Karen Gillan's character in the upcoming Gunpowder Milkshake, a movie about an estranged mother-daughter assassin team. Gunpowder Milkshake also stars Angela Bassett, Carla Gugino, and Paul Giamatti. Headey lends her voice to Kevin Smith's animated Masters of the Universe series. The cast also includes Sarah Michelle Gellar, Chris Wood, and Mark Hamill. Lena Headey also snagged the lead for a Showtime pilot for a series called Rita. She plays an unconventional mother in this dramedy.
Kit Harington (Jon Snow)
Kit Harington played the king of not knowing nothing, Jon Snow on Game of Thrones. He was the bastard son of Ned Stark (Sean Bean), at least that's what everyone assumed until the truth came out. Jon Snow was a member of the Night's Watch. He tried to live his life by a code of morals and sense of duty.
From 2018 to 2019, Kit Harington appeared at the Vaudeville Theatre in London in the first West End production of the play True West. He voiced the character of Eret in How to Train Your Dragon: The Hidden World. Kit Harington just finished filming Eternals, the latest Marvel Cinematic Universe movie. He plays Black Knight and reunites with his former Game of Thrones brother Richard Madden in Eternals.
Emilia Clarke (Daenerys Targaryen)
Emilia Clarke played the presumed last remaining Targaryen, and some would claim the rightful queen of the Iron Throne. Game of Thrones followed Daenerys as she grew from young innocent girl to powerful leader. Along with her dragons, Daenerys traveled far and wide to retake her spot as the leader of the seven kingdoms. Daenerys' journey was one of the most compelling parts of the Game of Thrones series. Emilia Clarke received many Emmy nominations for her role as Daenerys Targaryen.
In 2019, Emilia Clarke played Kate in Last Christmas. She starred opposite Henry Golding in this romantic dramedy about a woman who learns the true meaning of Christmas and giving. Clarke also appeared in Above Suspicion, a movie about the first FBI agent convicted of murder. Recently, Emilia Clarke announced plans to appear in the latest adaptation of Anton Chekhov's play The Seagull. The play appears on the West End in March. Indira Varma who played Ellaria Sand will also appear in this production of The Seagull.
Nikolaj Coster-Waldau (Jaime Lannister)
Nikolaj Coster-Waldau's Jaime Lannister tried to live an honorable life as the Kingslayer. He was always willing to bend the rules of honor when it came to protecting his family, especially Cersei. Jaime began Game of Thrones as one of the series' antiheroes, but slowly started to earn a heroic title, until all character development flew out the window like Tommen Baratheon (Dean-Charles Chapman).
Nikolaj Coster-Waldau appeared in two projects in 2019, Suicide Tourist and Domino. In 2019, he also filmed a pilot for an FX series called Gone Hollywood. He completed two films for a 2020 release. The first is called The Silencing, and it's a crime thriller about a hunter who engages in a cat and mouse game with a killer who may have kidnapped his daughter years ago. His other feature for 2020 is a Danish drama translated to The Day We Died. It's about the terrorist attacks that happened in Copenhagen on February 14 and 15 of 2015. Nikolaj Coster-Waldau appears in the Geffen Playhouse version of Macbeth from June to July 2020.
Sophie Turner (Sansa Stark)
Sophie Turner played Sansa Stark on Game of Thrones. Sansa had a rough path to find her place in Winterfell and among the world of warring families and power thirst. Of all the Game of Thrones characters, her ending fit her journey the most.
Sophie Turner has been busy appearing in her husband's music videos for "Sucker" and "What a Man Gotta Do," and possibly expanding their family. Career wise, Sophie Turner has been just as busy. She reprised her role of Jean Grey in X-Men: Dark Phoenix in 2019. Then she appeared in the revenge thriller Heavy. In 2020, Sophie Turner has the lead role in Survive, a TV series about a woman who survives a plane crash but now must survive being on a snow-covered mountain with only one other survivor.
Alfie Allen (Theon Greyjoy)
Alfie Allen played Theon Greyjoy over the course of Game of Throne's eight seasons. Theon started the show as a Stark loyalist, but his desire for power and to live up to the Greyjoy name led to him betraying the family that raised him. Then he spent the final few seasons trying to make up for this mistake.
Alfie Allen played Isaac Pincher in the third season of the Hulu's series Harlots. He then had a role in the Academy Award winning film Jojo Rabbit. He starred opposite Beanie Feldstein in How to Build a Girl, a movie based on Caitlin Moran's book of the same name. In January, Alfie Allen appeared in the miniseries White House Farm. The miniseries focused on the 1985 crime that resulted in the murder of five family members at an Essex farmhouse. Game of Thrones stars Gemma Whelan and Mark Addy also have roles in White House Farm. Alfie Allen is currently filming a Netflix movie called Night Teeth. It's a thriller about a chauffeur who ends up fighting for his life after he drives two women to five different parties in Los Angeles.
Maisie Williams (Arya Stark)
Maisie Williams played Arya Stark, the girl who would have some of the most debated moments of the final Game of Thrones season. Arya was the adventurous, tomboy Stark girl who went from a young child to a girl with no name to one of the series' greatest heroes.
Maisie Williams makes her X-Men debut when The New Mutants finally hits theaters on April 3. She plays Rahne Sinclair, aka Wolfsbane, a Scottish mutant who shape-shifts into a wolf. Maisie Williams is currently producing a short film with Lowri Roberts. She also has two projects in the post-production phase. The first is a series called Two Weeks to Live, about a woman going on a secret mission to honor her father, who died unexpectedly when she was younger. The other project is a movie called The Owners. It's about a group of friends who try to plan a burglary, but things get out of hand. In 2019, she also launched a social media platform called Daisie. It aims to be a networking site for creatives looking to collaborate on projects, and to help newcomers receive exposure for their work.
Isaac Hempstead Wright (Bran Stark)
Isaac Hempstead Wright played Bran Stark, one of the youngest of the Stark clan. He kicked Game of Thrones off with a bang by showing that the show would in fact harm kids. Bran eventually becomes the Three-Eyed Raven and gains power.
Isaac Hempstead Wright has two upcoming projects. The first is a movie called The Blue Mauritius, and the second is a film called Voyagers. Voyagers is a science fiction film that depicts the story of 30 people sent into space to search for a new home. The film has an all-star cast that includes Colin Farrell, Lily-Rose Depp, Fionn Whitehead, and Tye Sheridan.
Gwendoline Christie (Brienne of Tarth)
Gwendoline Christie played Brienne of Tarth, a brave knight who often faced challenges because of prejudices against women warriors. Her kind heart, loyalty, and honorable nature won her respect and love, especially from the Kingslayer.
Gwendoline Christie appears in The Personal History of David Copperfield in May 2020. Dev Patel, Hugh Laurie, and Tilda Swinton star in this upcoming movie. She played Titania in the 2019 Bridge Theatre stage production of A Midsummer Night's Dream. Christie appeared in The Friend, a movie featuring Dakota Johnson, Casey Affleck, and Jason Segel, and it's about a man who puts his life on hold when a couple, his best friends, receive life-altering news.
All eight seasons of Game of Thrones are available to stream on HBO Now. Stream it HERE.
Spent most of my life in various parts of Illinois, including attending college in Evanston. I have been a life long lover of pop culture, especially television, turned that passion into writing about all things entertainment related. When I'm not writing about pop culture, I can be found channeling Gordon Ramsay by kicking people out the kitchen.
Your Daily Blend of Entertainment News