Fincher Explains Why He Didn't Cast Scarlett Johansson In Dragon Tattoo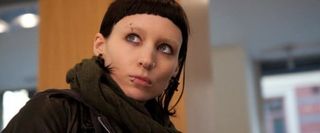 As the fall and winter movie seasons take shape, and everyone seems to think they know what the biggest movies of the next few months will be (War Horse, Tintin, Sherlock Holmes 2 etc.), there's still one gigantic question mark. Yes, David Fincher's adaptation of The Girl With The Dragon Tattoo is based on a wildly best-selling book, is a follow-up to the very popular The Social Network, and features a murderer's row of experienced actors to back up the girl already picked as this year's big breakout, Rooney Mara. But it's also a dark, very violent story that requires a bunch of actors to put on fake Swedish accents and talk about very intricate details of Swedish journalism and the legal system-- and that's before you get into the massive family tree at the center of the mystery.
Yes, it's going to be a challenge, which is why Sony has had a slow, steady and uniformly excellent marketing campaign going for months now. The latest entry is this Vogue cover story, in which Mara poses like a slightly terrifying glamourpuss and Fincher reveals a few details about the process of casting her… including why he didn't cast Scarlett Johansson after her great audition. Here's how he tells it:
For her part, Mara opened up about how grueling the audition process was for her, apparently nothing compared to the 2,400 takes Fincher had her do in her four days of shooting on The Social Network. At one point, when he called her in asking for photos of her on a motorcycle to see if she was right for the part, she was ready to throw in the towel and give up:
There are tons more details like that in the article, including Mara admitting how much she hated working on the Nightmare on Elm Street remake and the man who acts opposite her in a key rape scene, Yorick van Wageningen, saying he "spent a day crying in my hotel room" before shooting the scene. Read the whole thing here, and I promise you won't be thinking about whether or not Scarlett Johansson would have been good in it. Months before the movie comes out, Rooney Mara is already feeling like the crucial heart of Dragon Tattoo. As Fincher told the Vogue reporter, "Oh, man. She's a weirdo. She's a great weirdo."
Staff Writer at CinemaBlend
Your Daily Blend of Entertainment News
Thank you for signing up to CinemaBlend. You will receive a verification email shortly.
There was a problem. Please refresh the page and try again.