10 Movies To Stream If You Like Gone Girl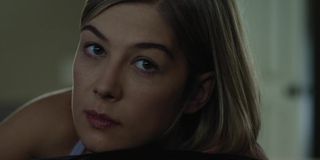 (Image credit: (Fox))
We're currently in the longest wait in between David Fincher movies in the filmmaker's prestigious career. How's that for some excellent suspense? When Gone Girl hit theaters back in 2014, the chilling thriller based on Gillian Flynn's bestselling novel (and adapted from her own screenplay) chilled our bones to their very cores. The Oscar-nominated thriller pulled out a career-defining performance from Rosamund Pike as the mysteriously disappeared wife to Ben Affleck's Nick Dunne and featured memorable appearances from Neil Patrick Harris, Tyler Perry and Carrie Coon.
At least fans have had the likes of Netflix's Mindhunter to mull us over while we wait for David Fincher's next movie Mank coming later this year – which is actually a biographical drama about the making of Citizen Kane starring Gary Oldman, Lily Collins and Amanda Seyfried by the way . But, if you're itching for more films with a likeness to Gone Girl, there are plenty of masterful thrills to stream across a ton of your favorite platforms. I think you'll enjoy checking out these titles if you've tired out Gone Girl rewatches:
Dark Places - Netflix
What It's About: Charlize Theron stars as Libby Day, a woman haunted by the tragedy of her parents being murdered when she was just eight years old. For almost 30 years she has been convinced that her brother (Corey Stoll) has been at fault as he continues to serve his prison sentence until Nicholas Hoult's underground detective and his "True Crime" club challenges what really happened that night.
Why Gone Girl Fans Will Like It: 2015's Dark Places is the perfect next step from Gone Girl because it's also based on a book by Gillian Flynn therefore giving the plot just as much richness as David Fincher's even if the filmmaker is not behind the camera.
Stream it on Netflix here (opens in new tab).
The Girl With The Dragon Tattoo - STARZ
What It's About: This psychological slow burn thrill ride centers on Daniel Craig's journalist Mikael Blomkvist who is investigating the disappearance of a woman who has been missing for 40 years. He decides to pair up with Rooney Mara's clever computer hacker Lisbeth Salander to uncover the person behind the mystery.
Why Gone Girl Fans Will Like It: The Girl With The Dragon Tattoo is another film directed by David Fincher – in fact it's the movie he made just before Gone Girl. The two movies undoubtedly have a likeness to each other especially since they're both Fincher's visions of popular bestselling crime thriller novels.
Stream it on STARZ here (opens in new tab).
The Prestige - Cinemax
What It's About: The Prestige centers on two competing magicians played by Christian Bale and Hugh Jackman back in the 19th century. It's a gritty and mysterious story about how their rivalry to pull off the perfect magic trick for their audiences transforms into each of them crossing the line in this intense psychological thriller also starring Scarlett Johansson, David Bowie Michael Caine, Piper Perabo and Rebecca Hall.
Why Gone Girl Fans Will Like It: Christopher Nolan is well-known for an expertly executed twist, but not enough for 2006's The Prestige. The movie pulls off a clever and shocking twist that will remind you of the Gone Girl experience.
Stream it on Cinemax here.
A Simple Favor - Amazon Prime, Hulu
What It's About: A Simple Favor is Paul Feig's dip into crime thrillers with a splash of comedy shaken in. It follows Anna Kendrick's blogger mommy Stephanie Smothers, who forms an unlikely friendship with Blake Lively's secretive Emily Nelson. Emily asks Stephanie if she can watch her young son and then disappears without warning even to her husband (Henry Golding).
Why Gone Girl Fans Will Like It: The 2018 thriller is a twisty fun take on the elements found in Gone Girl that has Anna Kendrick add her quirkiness alongside Blake Lively's sultriness. It has an engaging story you won't see coming either.
Stream it on Amazon Prime (opens in new tab) or Hulu (opens in new tab).
Gone Baby Gone - STARZ
What It's About: Ben Affleck's directorial debut is 2007's Gone Baby Gone starring his brother Casey Affleck along with Morgan Freeman, Ed Harris and Amy Ryan. The movie takes place in Boston (because of course) and centers on two detectives investigating the disappearance of a child. It goes on an exciting and suspenseful turn when Affleck's character goes rogue to solve the case.
Why Gone Girl Fans Will Like It: Sure there's "gone" in the title and Ben Affleck is involved in both Gone Baby Gone and Gone Girl but that's not the only reason it's a great pick. The film shows, perhaps, why Affleck signed on to Gone Girl – he's clearly into the genre and watching his first film is an impressive addition to crime dramas.
Stream it on STARZ here (opens in new tab).
Extremely Wicked Shockingly Evil And Vile - Netflix
What It's About: Extremely Wicked Shockingly Evil And Vile is about the infamous serial killer Ted Bundy through the lens of his longtime girlfriend Liz Kendall who was in a relationship with him for years without the awareness of his deadly crimes. Zac Efron plays the "charming" killer how many women described him to be and Lily Collins is Liz.
Why Gone Girl Fans Will Like It: This Netflix release will appease fans of Gone Girl because it's scarier in some ways – it's true. True crime is something that David Fincher was trying to portray in his 2014 movie and Extremely Wicked Shockingly Evil And Vile uses actual events to twist the genre in new ways.
Stream it on Netflix here (opens in new tab).
Destroyer - Hulu
What It's About: Destroyer is a 2018 movie that fell under the radar for many of us. The crime drama directed by The Invitation director Karyn Kusama is an intense film that follows an unrecognizable Nicole Kidman as a police detective with a tale of vengeance. LAPD detective Erin Bell goes after the gang, years after investigating them undercover to tragic results. Kidman earned a Golden Globe nomination for the role in the movie also featuring Sebastian Stan, Toby Kebbell and Tatiana Maslany.
Why Gone Girl Fans Will Like It: Chilling storyline? Check. Badass female lead. Check. Elements of crime and investigation? Check, check and check. Destroyer is a great alternative to those looking for something like Gone Girl.
Stream it on Hulu here (opens in new tab).
Prisoners - HBO
What It's About: Denis Villeneuve's first American film that would later propel him into other projects like Arrival, Blade Runner 2049 and the upcoming adaptation of Dune is 2013's Prisoners. It's another must-see crime drama, but this time it centers on Hugh Jackman's Keller Dover when his daughter and her friend goes missing and he takes it into his own hands as Jake Gyllenhaal's Detective Loki also pursues leads such as Paul Dano's Alex Jones.
Why Gone Girl Fans Will Like It: Although David Fincher makes different decisions, Denis Villenueve is a matched filmmaker with an inspired style to his work and Prisoners is a fascinating and brutal approach to the genre.
Stream it on HBO here.
Widows - Cinemax
What It's About: Steve McQueen's Widows is a gritty take on an '80s television series of the same name. It's about the wives of criminals who die during their last job and they are left to pick up the pieces. The "widows" are made up of Viola Davis, Michelle Rodriguez, Elizabeth Debicki and Cynthia Erivo and they are suddenly haunted by Brian Tyree Henry and Daniel Kaluuya's characters who have come to collect. The women decide to stage criminal activity of their own to pay up.
Why Gone Girl Fans Will Like It: This is another instance of an incredible filmmaker moving to crime drama to amazing results. Steve McQueen made this right after 12 Years A Slave won best picture and Gone Girl novelist/screenwriter Gillian Flynn co-wrote Widows with McQueen.
Stream it on Cinemax here.
Fight Club - HBO
What It's About: First rule of Fight Club is no one talks about it, so I'm technically obligated not to tell you about it but I'll make an exception here. Brad Pitt is in his prime in his absolute classic role as Tyler with Edward Norton who form an underground fist fight club together until it evolves into a much bigger monster and grows out of control.
Why Gone Girl Fans Will Like It: If you somehow came across Gone Girl before Fight Club, it's David Fincher's second movie and his most famous to date. It's always fun to look back at the film that kind of started it all for him and this is it.
Stream it on HBO here.
And as a small bonus, check out the six-episode mini documentary series The Murder of Laci Peterson available on Hulu here (opens in new tab). Since it came out back in 2017, viewers have noticed quite a few comparisons between the cases leading some to believe it's the source of inspiration for the original novel (it's not though). Otherwise happy streaming! Enjoy this thrilling selection of movies you'll enjoy if you're a fan of Gone Girl.
Your Daily Blend of Entertainment News
YA genre tribute. Horror May Queen. Word webslinger. All her writing should be read in Sarah Connor's Terminator 2 voice over.