10 Movies To Stream If You Like The Social Network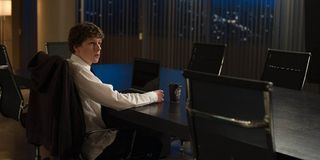 For my money, David Fincher's phenomenal The Social Network stands as one of the finest films of the last decade. An all-around excellently crafted movie, built by taunt direction, electrifying writing, exceptional performances, and a sharp presentation, it's one of the most ingeniously-made movies in the past ten years, and it's a shining example of what happens when a bunch of talented people come together at the top of their game and make an absolutely extraordinary achievement. The movie has earned a wealth of acclaim and several accolades. Deservedly so. It's a masterpiece, and it can be hard to find many movies on that level. Nevertheless, if you're looking for another movie in that vein, we have a few streaming-friendly movies to recommend — particularly if you have recently rewatched The Social Network after Fincher's movie was brought back to Netflix earlier this month.
Steve Jobs - Netflix
What It's About: Follows Apple co-founder Steve Jobs before three key phases in his life and career between 1984 and 1998.
Why The Social Network Fans Will Like It: Once again telling the story of a brilliant-but-troubled technical pioneer as he balances the implosion of his personal life while on the verge of changing the world as we know it, Steve Jobs shares not merely the same screenwriter, Aaron Sorkin, as The Social Network, but many similar thematics as well. While Steve Jobs doesn't reach the same heights as The Social Network, it's certainly compelling in its own right, thanks in large part to dynamic performances from our starry ensemble, including Michael Fassbender in the title role. Adopting an unconventional narrative approach, as well as several theatrical moments, Steve Jobs is a striking, engrossing character study of another towering modern technology figure.
Stream it on Netflix here.
Glengarry Glen Ross - HBO Go
What It's About: Glengarry Glen Ross follows two days for four desperate real estate salesmen and the growing frustration and turmoil that ensues when a corporate spokesperson claims all but two salesmen will be fired within a week.
Why The Social Network Fans Will Like It: If you loved The Social Network for its whip-smart dialogue and its constantly quotable one-liners, Glengarry Glen Ross will certainly satisfy. Bolstered by an excellent ensemble, including Al Pacino, Jack Lemmon, Alan Arkin, Alec Baldwin, and more, and adapted by David Mamet from his 1984 Pulitzer Prize-winning play, it's a cutting, engrossing tale of the humanity (and the lack thereof) found and loss in a competitive corporate structure. It's a sharp, sneering cinematic translator, bringing as many sparks as the play itself. It proves to be a compelling morality play that's heavily engrossing.
Stream It On HBO Go here.
Moneyball - Starz
What It's About: Moneyball follows the 2002 baseball season for the Oakland Athletics and how General Manager Billy Beane (Brad Pitt) and assistant GM Peter Brand (Jonah Hill) built a team of undervalued players using analytics and an unorthodox scouting method.
Why The Social Network Fans Will Like It: Released just a year after The Social Network hit theaters, it's not fair to say that Moneyball was directly influenced by the Best Picture-nominated film, but it does share some of its DNA. It's co-written by Aaron Sorkin, alongside Steven Zaillian and Stan Chervin, and it sees a pair of down-on-their-luck individuals use the tools of the internet to their advantage and make their own unlikely empire. Since it's a sports drama, the outcome is notably more uplifting than The Social Network's dourly ambiguous final notes, but this true story is similarly well-crafted.
Stream It On Starz here.
The Big Short - Tubi
What It's About: An inside look from various Wall Street figures at how the United States housing bubble lead to the financial crisis of 2007-2008.
Why The Social Network Fans Will Like It: A stylish, fast-paced, irreverent look at our recent history, one that uses an unconventional narrative and several fourth wall breaks to communicate its angry, urgent social commentary, The Big Short is a timely dramedy that also explores controversial figures who speak 50 words a minute and discuss something that has changed the lives of thousands of Americans. Yet, through its fresh, entertaining approach, Adam McKay's Oscar-winning film bristles with life, providing an absorbing and ultimately devastating look at this not-too-distant financial failure. Providing a complicated matter in a smart, digestible, invigorating package, it makes it an easy recommendation for fans of The Social Network.
Stream It On Tubi here.
Ingrid Goes West - Hulu
What It's About: A woman moves to L.A. to befriend her new social media idol – by any means necessary.
Why The Social Network Fans Will Like It: If you see The Social Network as a cautionary tale-of-sorts about the long-term dangers of making friends (and enemies) on (or through) the Internet, then you should definitely make a point to check out 2017's under-seen dark comedy, Ingrid Goes West. Starring Aubrey Plaza, in the finest performance of her career to date, as Ingrid, a mentally-unstable young woman who is obsessed with an Instagram star and makes it her mission to become her BFF, this movie is unflinching and often uncomfortable in its brutal commentary, yet through its dark laughs and engrossing characters, Ingrid Goes West proves to be one of the sharpest, most timely social satires made about our social media era.
Stream It On Hulu here.
Molly's Game - Netflix
What It's About: Follows Molly Bloom (Jessica Chastain), a former Olympian who finds herself at the head of an underground poker empire — as well as the head of an ongoing FBI investigation.
Why The Social Network Fans Will Like It: After years of serving as a screenwriter and showrunner, Aaron Sorkin finally found himself in the director's chair with Molly's Game, another tale based on a true figure who finds herself in the midst of greatness as she hopes to prove herself in a competitive and dangerous field. While Sorkin's inexperience as a director prevents Molly's Game from having the same whiz and flash as David Fincher or Danny Boyle, Sorkin's assured, dependable directorial debut is elevated by his continuously sharp dialogue and his strong ensemble, notably with Jessica Chastain in the lead. This role finds her at the top of her game.
Stream It On Netflix here.
Fight Club - HBO Go
What It's About: Two men, bored with their lives, build an underground fist-fighting club that turns into an anti-capitalist revolution.
Why The Social Network Fans Will Like It: While more testosterone-driven than his later films, Fight Club is unmistakably David Fincher's work — as all his movies are undoubtedly from his lens. Similar to how Social Network follows men building an online forum that'll change millions of lives, Fight Club, based on Chuck Palahniuk's novel, follows jaded guys who want to find their sense of purpose — even if that means beating the crap out of each other. The angsty, pulpy cult classic earned its status among cinephiles and casual moviegoers alike. It's not hard to see why. Driven by strong performances from Edward Norton, Brad Pitt, and Helena Bonham Carter, Fight Club became a defining film for a new century.
Stream It On HBO Go here.
The Girl with the Dragon Tattoo - Starz
What It's About: An English-language adaptation of Swedish author Stieg Larsson's best-selling novel of the same name.
Why The Social Network Fans Will Like It: Among the bleakest, most nihilistic works from David Fincher to date, which is certainly saying something, The Girl with the Dragon Tattoo served as the acclaimed director's follow-up to The Social Network. While it doesn't reach the same dramatic heights, it's most certainly the work of one of our finest working filmmakers, Particularly with its mesmerizing, star-making performance from Rooney Mara, this exceptional adaptation of Stieg Larsson's beloved novel is certainly another accomplished feat for Fincher, and it's a film that his fans shouldn't miss.
Stream It On Starz here.
Ex Machina - Netflix
What It's About: A low-level programmer (Domhnall Gleeson) is given the opportunity of a lifetime when he's invited by his mysterious CEO (Oscar Isaac) to administer the Turing Test onto an advanced humanoid robot (Alicia Vikander), a machine that grows more intelligent with each passing day.
Why The Social Network Fans Will Like It: Among the most astonishing directorial debuts of the past decade, Ex Machina found author-turned-screenwriter Alex Garland producing a sleek, stylish, accomplished, and unsettling study at the division fostered between humanity and artificial intelligence in a fresh, original tale. Elevated by its exceptional cast, notably from its exceptional performances from Isaac and Vikander, Ex Machina presents an eerie and uncompromising vision of our not-too-distant future, one that's bolstered by sharp dialogue, top-notch visual effects, and exceptional production design. It's one of the most absorbing, impressive filmmaking debuts in recent memory.
Stream It On Netflix here.
Charlie Wilson's War - Starz
What It's About: Tells the story of U.S. Congressman Charlie Wilson (Tom Hanks) and CIA operative Gust Avrakotos (Philip Seymour Hoffman) who made the efforts that eventually led to Operation Cyclone.
Why The Social Network Fans Will Like It: While it doesn't stand out as much as a few other Aaron Sorkin-penned pictures, Charlie Wilson's War is a fine film in its own right, notably with likable performances from Tom Hanks, Julia Roberts, and, most notably, the late, great Philip Seymour Hoffman. It is a witty, entertaining look at political history, one that is given a vibrancy through Sorkin's screenplay, which constantly crackles —particularly through these stars. If you're looking for another enjoyable, well-made both written by Sorkin, you'll most certainly find a charming film in Charlie Wilson's War.
Stream It On Starz here.
These are just a few of the quality movies available to stream on various services. If you're looking for a few other movies worth seeing in the same vein as The Social Network that aren't available to stream, I would also recommend Network and Citizen Kane, which were major influences for Sorkin. You should also check out Catch Me If You Can, The Wolf of Wall Street, Michael Clayton, and Whiplash, to name a few, if you haven't already. What's your favorite movie of the ones listed above? What movies do you recommend to someone if they loved The Social Network? Let us know in the comments.
Your Daily Blend of Entertainment News
Will is an entertainment writer based in Pittsburgh, PA. His writing can also be found in The Playlist, Cut Print Film, We Got This Covered, The Young Folks, Slate and other outlets. He also co-hosts the weekly film/TV podcast Cinemaholics with Jon Negroni and he likes to think he's a professional Garfield enthusiast.