The New Finding Dory Trailer Is Hilarious And Heart Breaking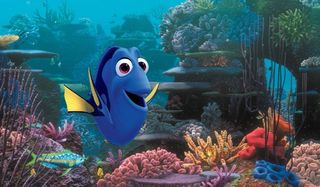 Ladies and gentlemen; Pixar seems to have done it again. After years of anticipation, we will finally get a sequel to Finding Nemo that fills in the backstory of Ellen DeGeneres' fan favorite character, Dory. Aptly titled Finding Dory, the story of the upcoming animated feature will take us on an emotional journey that sees the memory-impaired fish attempting to make her way home. A new trailer for the Pixar sequel has just dropped, and it will undoubtedly make you laugh and cry in equal measure. Check it out below.
The above trailer seems to capture absolutely everything that we adored about the original Finding Nemo, and takes it to the next level. It opens by providing us with a bit of context; Dory's short-term memory loss caused her to become separated from her family at a very young age, and she has spent the subsequent years trying her best to function with that handicap. Fast forward to present day, and we see that she's still living alongside Nemo and Marlin following the events of the original movie. One day she starts to gather clues about where she comes from, and embarks on a journey to find her family and her home.
Along the way she encounters a number of hilarious aquatic characters, and these new fish and mammals lead to some of the funniest moments in the entire trailer. It's genuinely impressive how much new material Finding Dory seems to be introducing, rather than relying on our collective nostalgia for the first film. My personal favorite is a sea lion, voiced by perpetual badass Idris Elba, who doesn't take kindly to unwelcome seals sitting atop his rock.
As hilarious as Finding Dory appears, it could also very well lead to a seriously emotional reaction from the audience. If Dory actually manages to find her family and her home, she will likely have to bid a tearful farewell (or at least an extended "see ya later") to Marlin and Nemo. Pixar movies have never shied away from trying wholeheartedly to make us cry, and we have a sinking feeling (pun intended) that Finding Dory could potentially rival Toy Story 3 for saddest, yet most heartwarming, Pixar movie yet.
In true Pixar fashion, it appears that Finding Dory will bring the laughter and the pathos, and crank both of those qualities up to eleven. We here at Cinema Blend will keep you up to date regarding all of the latest and greatest news pertaining to the long-awaited sequel. We won't have to wait too much longer, as Finding Dory will finally just keep swimming its way into theaters next month on June 17.
Originally from Connecticut, Conner grew up in San Diego and graduated from Chapman University in 2014. He now lives in Los Angeles working in and around the entertainment industry and can mostly be found binging horror movies and chugging coffee.