First Kung Fu Panda 2 Clip: Po Flies Out Of The Sun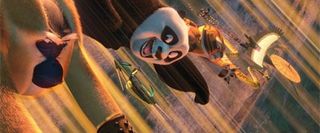 This summer we're getting two animates sequels, and even though I loved the original Cars, I think most people would agree there was a lot more to love about Kung Fu Panda. So maybe Mater's playing spy in Cars 2, but what I'm really interested in is if DreamWorks can finally make a sequel without ruining the franchise that started it.
The Kung Fu Panda 2 trailers have been kind of silly and hard to read, but then so were the trailers for the original film, and it turned out to be a different kind of movie entirely. So when it comes to the Panda sequel, I'm paying more attention to things like this: The first ever clip from Kung Fu Panda 2.
Po and the Furious 5 return to theaters on May 26th. For more on their quest to dispense justice with karate kicks, visit the KFP2 page in our Blend Film Database.
Your Daily Blend of Entertainment News
Thank you for signing up to CinemaBlend. You will receive a verification email shortly.
There was a problem. Please refresh the page and try again.