What To Watch On Streaming If You Like Seth Rogen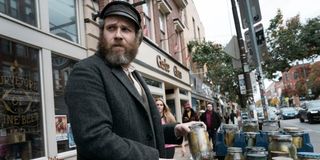 CinemaBlend participates in affiliate programs with various companies. We may earn a commission when you click on or make purchases via links.
Few modern comedic performers have willingly diversified themselves as consistently or as dependably as Seth Rogen does. The A-list comedy actor/producer is known to broadly experiment with various genres, styles, and tones, producing a number of outlandish comedies that don't always prove successful but showcase an incredibly passionate and commendably opportunistic on-screen personality. That tradition continues with his latest film, An American Pickle, which recently premiered on HBO Max. Though it should be noted that quite a few Seth Rogen movies are available to stream on several services at this time. If you're a Seth Rogen fan, hit up these movies!
An American Pickle (HBO Max)
An immigrant pickle factory worker (Seth Rogen) is accidentally brined for 100 years, waking up in modern-day Brooklyn and interacting with his great-grandson (Rogen).
Why It's A Good Option for Seth Rogen Fans: Much like its well-preserved generation-jumping main character, An American Pickle arrived on the scene a few years after it was originally intended, receiving a late-summer HBO Max debut opposed to its originally-planned theatrical rollout. While it's more off-kilter than what some folks might expect from Rogen's sophomoric brand, Brandon Trost's movie proves to be a richly funny, delightfully high-concept, and touchingly heartfelt exploration on heritage, generational divides, and cultural identity, specifically Jewish identity. The humor is gleefully absurd, but the focus is intimately focused on the two mismatched ancestor-and-lineage protagonists, both played by Rogen. As Herschel, Rogen gives one of his most soulful, wonderfully sweet-as-a-pickle performances.
Stream It On HBO Max here.
50/50 (Showtime)
A young man (Joseph Gordon-Levitt) is diagnosed with a cancerous spinal tumor with a 50-percent survival rate and fights the deathly disease accompanied by his crude-yet-supportive friend (Seth Rogen).
Why It's A Good Option for Seth Rogen Fans: While tragedy is often at the root of comedy, finding humor in something as serious as cancer is far from easy. Though it doesn't result in an easily marketable movie, 50/50 is, nevertheless, a surprisingly hilarious, emotionally poignant look at what one must endure when battling such a terrible disease — particularly at a young age — and how humor helps people navigate through it. This autobiographical slice-of-life dramedy is immensely benefitted by drawing from screenwriter Will Reiser's real-life account, allowing the story to be told in a grounded, emotionally resonant way, with Joseph Gordon-Levitt and producer Seth Rogen's believable buddy chemistry making 50/50 a total success.
Stream It On Showtime here.
Funny People (Starz)
A washed-up comedy star (Adam Sandler) returns to stand-up, aided by a comic wannabe (Seth Rogen), following a terminal diagnosis.
Why It's A Good Option for Seth Rogen Fans: Not unlike 50/50, Funny People explores the root of tragedy in comedy and the sorrow that's sometimes hidden underneath the laughter. While that gives Judd Apatow's third movie a moody undercurrent, the title isn't ironic. As observant and emotional as his other movies, Apatow produces a mature, reflective work with equal bouts of heart and humor, communicating the humanity that comes through in the best comedians' stage work. Adam Sandler's (possibly) meta performance got a heap of the film's praise, but Seth Rogen's commendably vulnerable performance is at the heart of this wistful, emotionally soul-searching dramedy.
Stream It On Starz here.
Donnie Darko (IMDb TV/Tubi)
A troubled teenager (Jake Gyllenhaal) is plagued by visions of a man in a bunny suit who promises anarchy and doom.
Why It's A Good Option for Seth Rogen Fans: Weirdly enough, Seth Rogen made his cinematic debut in Richard Kelly's disturbingly excellent feature directorial debut, Donnie Darko. As a class bully who picks on our moody title character, this early Rogen performance is a notably darker, meaner role than what we've come to expect from his affable brand. Nevertheless, considering how good the movie is, it's well worth your time, and it's intriguing to see where Rogen started on the silver screen.
Stream It On IMDbTV here and Tubi here.
Steve Jobs (Netflix)
A biopic covering fourteen years of Steve Jobs' (Michael Fassbender) life and career over the course of three pivotal days.
Why It's A Good Option for Seth Rogen Fans: Many comedic actors have been given their time to shine as dramatic actors. For Seth Rogen, that time came when he played Steve Wozniak opposite Michael Fassbender's titular Apple founder in Steve Jobs. Communicating the vast frustrations of a brilliant browbeat partner who does a lot of the work but receives little of the glory, Rogen gave an effectively and commendably nuanced performance worth celebrating. Alas, ironically, this portrayal was overlooked on the awards circuits over Fassbender's mesmerizing portrayal.
Stream It On Netflix here.
Pineapple Express (Amazon Prime/Showtime)
A process server (Seth Rogen) and his weed dealer (James Franco) flee from hitmen and a corrupt cop after witnessing a murder.
Why It's A Good Option for Seth Rogen Fans: This goofy, high-energy stoner action-comedy doesn't feature a screenplay that's as sharp, personal, or emotional as the one Seth Rogen co-wrote for Superbad, but Pineapple Express earned its wide audience appeal thanks to the easy chemistry shared between Rogen and James Franco, with the latter giving one of his strongest performances. With its amusing antics, decent action beats, and (naturally) weed-filled silliness, Pineapple Express became a defining movie for Rogen as an A-list comedy star/writer/producer.
Stream It On Amazon Prime here and Showtime here.
Kung Fu Panda 1 & 2 (HBO Max)
A bumbling kung fu-loving panda (Jack Black) finds his fate rocked when he's considered the all-mighty Dragon Warrior.
Why It's A Good Option for Seth Rogen Fans: Though bold to say, I consider the Kung Fu Panda trilogy is one of the best animated film series in modern animation. Infused with great heart, winning characters, wacky humor, and surprisingly impressive martial arts sequences, they're extremely entertaining, endearing family movies, and they're among the finest DreamWorks Animation movies yet. While Jack Black's giddy voice-work is the star, this butt-kicking franchise features a delightfully strong ensemble, including Angelina Jolie, Dustin Hoffman, Jackie Chan, and Seth Rogen. As Mantis, Rogen isn't given as many lines as his co-stars, but his signature voice is always recognizable — if strange to hear inside an insect.
Stream Kung Fu Panda 1 & 2 On HBO Max here and here.
The Disaster Artist (Netflix)
Aspiring actors Greg Sestero (Dave Franco) and the elusive Tommy Wiseau (James Franco) form an unlikely friendship, teaming up to make 2003's cult film, The Room.
Why It's A Good Option for Seth Rogen Fans: Making a movie about what's considered one of the worst movies of all-time is a risky proposition. Thankfully, James Franco's The Disaster Artist is an entertaining and poignant biopic exploring the collaborative process and how even the most terrible movies can become great art — in their own respective way. Much like Wiseau did on The Room, Franco directs and stars here. While it doesn't reach the same heights as Tim Burton's Ed Wood, which it's clearly evoking, Franco's commitment makes for a sweet portrait of friendship and dedication in Hollywood's always-uncertain seas. Likewise, Rogen produces and stars as Sandy Schklair, The Room's experienced-and-thus-belabored script supervisor.
Stream It On Netflix here.
Paul (HBO Max)
Two sci-fi loving geeks (Simon Pegg, Nick Frost) make an out-of-this-world discovery when they meet Paul (Seth Rogen), an alien outside Area 51.
Why It's A Good Option for Seth Rogen Fans: While it doesn't compete with their collaborations in the Cornetto trilogy, Paul is, nevertheless, a funny and charming sci-fi road trip buddy romp for Nick Frost and Simon Pegg (who also co-wrote the screenplay), aided by Seth Rogen's bubbling persona in a little grey alien's body. While broader and even more irreverent than Pegg and Frost's work with director Edgar Wright, the winning mix of genre spoofing, high-stakes action, and gleefully silly/winking jokes makes for an appealing package in this studio comedy, proving to be a consistently likable Americanized effort for this British comedy duo. Likewise, Rogen's animated alien performance fits well with his goofy, boisterous personality.
Stream It On HBO Max here.
Observe And Report (Netflix)
A mentally-unstable security guard (Seth Rogen) pursues a flasher tormenting female visitors.
Why It's A Good Option for Seth Rogen Fans: Jody Hill's incredibly dark comedy certainly isn't one for everyone. But as an unflinching depiction of its chemically unbalanced would-be cop, Observe and Report proves to be one of the boldest, balliest studio comedies in recent memory. It's also one of Rogen's strongest, most underrated performances yet, showcasing the vile menace behind this ruthlessly determined, entirely negligent character.
Stream It On Netflix here.
Zack And Miri Make A Porno (Netflix)
Lifelong platonic friends (Seth Rogen, Elizabeth Banks) decide to solve their money problems by making a porno movie.
Why It's A Good Option for Seth Rogen Fans: Despite its bold title and its cheeky marketing, Zack and Miri Make A Porno isn't as graphic as its eye-catching title makes it seem. Nevertheless, Kevin Smith's surprisingly conventional but amusing buddy movie/rom-com is as lewd and crude as it's sweet and sincere. Seth Rogen and Elizabeth Banks share appealing casual chemistry together, and it's an altogether decent studio comedy that comes together well enough.
Stream It On Netflix here.
The Spiderwick Chronicles (Netflix)
Based on the books by Holly Black and Tony DiTerlizzi, The Spiderwick Chronicles follows a group of children who discover a field guide to fairies.
Why It's A Good Option for Seth Rogen Fans: On the onset, The Spiderwick Chronicles looks like yet another young adult wannabe fantasy film franchise that didn't find Harry Potter-level success. While it's true that the movie didn't become as profitable as the producers hoped, it's surprisingly better than your average failed franchise starter — particularly thanks to the performances, notably from Freddie Highmore, as well as Seth Rogen, who voices Hogsqueal, a bird-eating hobgoblin.
Stream It On Netflix here.
The Interview (Netflix/Hulu)
Two journalists (Seth Rogen, James Franco) set up an interview with Kim Jong-un (Randall Park), only to be recruited by the C.I.A. to assassinate him.
Why It's A Good Option for Seth Rogen Fans: It's the comedy that nearly started World War III. While the controversy surrounding it overtook the narrative, it's a commendable high-concept satire in its own right, featuring another winning pair of performances from Seth Rogen and James Franco.
Stream It On Netflix here and Hulu here.
If you have a cable subscription, you can stream The Night Before on FX and This is the End on TNT. What's your favorite Seth Rogen movie/performance? Let us know in the comments!
Your Daily Blend of Entertainment News
Will is an entertainment writer based in Pittsburgh, PA. His writing can also be found in The Playlist, Cut Print Film, We Got This Covered, The Young Folks, Slate and other outlets. He also co-hosts the weekly film/TV podcast Cinemaholics with Jon Negroni and he likes to think he's a professional Garfield enthusiast.