First Look At Nicolas Cage, The Knight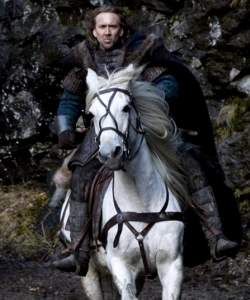 There's this one scene in Defiance where Daniel Craig's character, having procured a white horse from seemingly nowhere, gets on it and strides around his troops, encouraging them to make it through the winter. And even though the guy is James Bond, he looks pretty silly, as does pretty much anyone who gets on a white horse and demands to be taken seriously. It's just too loaded an image for anyone to do it justice.
But that isn't going to stop Nicolas Cage from giving it a go in his next movie, Season of the Witch. USA Today (opens in new tab) published the first image from the film, which shows Cage striding into battle, or something, astride a horse as white as they come. Apparently he's playing a knight who's escorting a woman accused of witchcraft, after the spread of the Black Plague is blamed on her. Explains producer Charles Roven, "They need to transport her to the mountains and perform a ritual that will lift whatever enchantment she has on the land." Wouldn't it be easier to just see if she weighs the same as a duck?
Go to USA Today (opens in new tab) to see the full-size image.
Staff Writer at CinemaBlend
Your Daily Blend of Entertainment News
Thank you for signing up to CinemaBlend. You will receive a verification email shortly.
There was a problem. Please refresh the page and try again.