First Look At Rooney Mara As Dragon Tattoo's Lisbeth Salander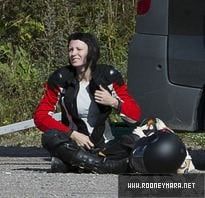 We may have our first ever glimpse at the recently cast Rooney Mara in her full on Lisbeth Salander getup for David Fincher's take on The Girl with the Dragon Tattoo. The image to your right and the one you'll see below comes from RooneyMara.net where they say they were taken from the set of Fincher's movie on September 3rd.
Whether this is actually Mara shooting a scene or just hanging around practicing is unclear, but she's definitely got her hair cut in a very Lisbeth-like style, and Lisbeth is well known to love a good motorbike. The pictures are also pretty small, so it's hard to make out many details, however Fincher's take on The Girl with the Dragon Tattoo was indeed supposed to begin shooting in September and the Tribble of the Day calendar sitting on my desk says it's September 4th. Here's the other photo:
UPDATE: Thanks to one of our eagle-eyed readers in the comments section below who spotted even more images on Rooney-Mara.org. Two of those are below:
UPDATE 2: A video has been added showing Mara riding her motorcycle. It seems to confirm that the photos aren't actually taken from filming, but are taken of Mara practicing her motorcycle riding for filming. So this may not be one of the outfits she'll actually wear as Lisbeth, but at least we're getting a look at what's up with her hair. Here's the video:
Here's Rooney Mara before her Dragon Tattoo transformation:
And here's the Swedish Lisbeth as originally played (perfectly) by Noomi Rapace:
Your Daily Blend of Entertainment News
Thank you for signing up to CinemaBlend. You will receive a verification email shortly.
There was a problem. Please refresh the page and try again.