First Official Look At Rooney Mara As Lisbeth Salander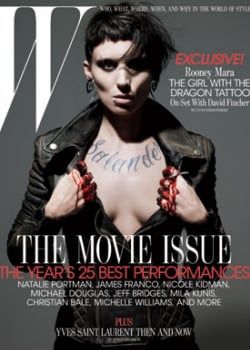 David Fincher is essentially hiding out these days in an effort to ride out wave after wave of accolades for The Social Network. He's got a good reason for the vanishing act, at least-- he's over in Europe shooting The Girl With The Dragon Tattoo, the American adaptation of the hugely successful series of Swedish novels, starring Social Network muse Rooney Mara along with Daniel Craig. Fincher could easily spend the next six months working on the film and surfacing only to accept the occasional award (including his inevitable Oscar), but for some reason he's given a big splashy interview to W Magazine, which is also featuring Mara in full-on Lisbeth Salander gear on its cover.
The cover image is what you see above, but it's well worth clicking over to the online article for the full story, which covers both Fincher's early Hollywood experience-- "I know what it's like to be in a room full of people who just think it's so cute that you're young and have an idea about how things should be done"-- to his plans for the Dragon Tattoo movie. Fans of the book will be interested to know the movie will be a far less faithful adaptation of the book than the Swedish film; screenwriter Steven Zaillian has toned down Blomkvist's sexual exploits, increased Lisbeth's aggressiveness, and changed the ending entirely, though what happens now isn't specified in the article of course. Mara and Fincher also talk about the hellish audition process she endured alongside the likes of Jennifer Lawrence and Natalie Portman; Fincher had five or six actresses act out Lisbeth's big rape revenge scene-- "The girls had to kick a dildo up his ass. That's Salander's big scene, and we had to see if they could do it." Mara admits she was at the end of her rope when Fincher finally called her to say she had the part.
Check out the article, which also explains Lisbeth's bloody knuckles on the magazine cover, and look for The Girl With The Dragon Tattoo less than a year from now on December 21.
Staff Writer at CinemaBlend
Your Daily Blend of Entertainment News
Thank you for signing up to CinemaBlend. You will receive a verification email shortly.
There was a problem. Please refresh the page and try again.