Fox Home Entertainment Honors West Side Story With 50th Anniversary Edition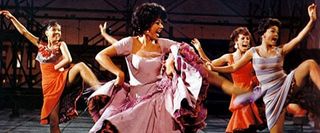 The year 1961 was a great one for films: Disney created an iconic, animated Cruella de Vil; Robert Wise's screen adaptation of West Side Story was a phenomenon; and Holly Golightly moved amorously through the Breakfast At Tiffany's set. If 1961 was a good year for movies, than 2011 is a good year for 50th anniversary editions. Breakfast at Tiffany's already announced its remasterd set for September, and now Twentieth Century Fox Home Entertainment has announced the Blu-Ray debut and 50th Anniversary Edition box set release of West Side Story.
West Side Story: 50th Anniversary Edition will hit the market on November 15, and if you are willing to wait, it will come chock full of whistles and bells. The real prize is the Limited Edition 4 Disc Boxed Set that comes with a two-disc Blu-Ray, a newly restored DVD, a tribute music CD, and collectible memorabilia. There are currently no pricing specs on the set, but it is likely to be expensive. Twentieth Century Fox is also offering a more modest two-disc Blu-Ray set for purchase that won't break the bank.
Whichever edition you choose, it looks like both sets will offer equivalent special features on the disc. Fox has even gone all out and created a couple of retrospective extras for the event. The first is "A Place For Us," a featurette about the creation and vision of West Side Story. The second is a look back at all of the major dance numbers in the film featuring the cast, crew, and famous dancer and choreographer commentaries. Of course, the big draw with this release is the restorative work that took hundreds of hours and should really make the film pop. You can check out the rest of the disc extras, below.
West Side Story: 50th Anniversary Edition Blu-Ray Special Features
• "Pow! The Dances of West Side Story"
• "A Place for Us: West Side Story's Legacy"
• Song-specific Commentary by lyricist Stephen Sondheim
• Music Machine
• "West Side Memories"
• Storyboard-To-Film Comparison Montage
• Four trailers
Your Daily Blend of Entertainment News
Thank you for signing up to CinemaBlend. You will receive a verification email shortly.
There was a problem. Please refresh the page and try again.