Godzilla Remake Finds A Writer In Max Borenstein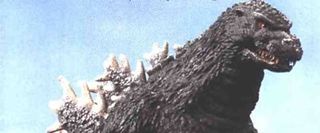 If you're old enough to have seen the excremental 1998 Godzilla movie, you've probably had just about enough time to scrub the memory of it out of your brain. That can only mean one thing. Time for a new remake! Well, not that new. Rumors began floating back in 2009 that Legendary Pictures, the folks behind The Dark Knight and 300, wanted to bring the giant lizard back to the big screen. Now THR says that this latest take on Godzilla has landed a new writer named Max Borenstein, taking over from Batman Begins co-writer David S. Goyer.
Borenstein is just the latest in a long line of names that have been attached, or rumored to be attached, to the new Godzilla movie. Over the past few years we've seen tidbits ranging from rumors that Guillermo del Toro might direct to concept art for their new incarnation of Godzilla. Those rumors eventually proved false, with Monsters director Gareth Edwards settling into the helm.
Borenstein is relatively new to the Hollywood landscape. He wrote and directed a low-budget flick called Swordswallowers and Thin Men back in 2003. He doesn't have any produced credits listed since then, but lately his career has been taking off nicely, with three projects lined up currently. In addition to Godzilla, he rewrote Warner Bros. and Legendary Pictures' The Seventh Son, based on Joseph Delaney's young-adult book. He also penned The Art of the Steal, which stars Zac Efron as a thief and is based on a Wired article.
We probably can't expect to see Godzilla stomping into theaters until 2013 at the earliest, so don't be surprised if Borenstein isn't the last writer to lend the big lizard his writing chops.
Your Daily Blend of Entertainment News
Thank you for signing up to CinemaBlend. You will receive a verification email shortly.
There was a problem. Please refresh the page and try again.