Ian Holm Will Play Bilbo In The Hobbit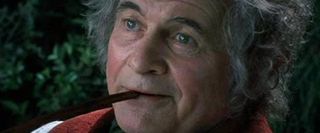 Here's some great news for Lord of the Rings. Ian Holm played the character of Bilbo, rather brilliantly, in the Lord of the Rings films. Though the character of Bilbo is much younger in The Hobbit and has thus been recast to be played by Martin Freeman, it looks like Holm will still make an appearance as the character.
The first hint of this came during director Peter Jackson's recent video blog from the set, which closed with narration that sounded a lot like Ian Holm as Bilbo. Actually, it wasn't, just Martin Freeman doing the character (a nice indication of just how good Freeman may be at this), but that got people asking questions. A few moments ago Hobbit director Peter Jackson answered.
Posting on his official Facebook page Peter Jackson had this to say on the subject of Ian Holm in The Hobbit:
Pretty clear. How will he fit in, since The Hobbit is set decades earlier and someone else is playing the character? Well remember the original Lord of the Rings movies were framed by Ian's Bilbo writing a book about his journey. At the start of those films, Bilbo was finishing up the writing of his tale and turning it over to Frodo. That could be a great way to revisit an elderly Ian, writing his exploits, and looking back on them, before we flash back to seeing them actually happen. Peter Jackson isn't saying, of course, but that theory seems about as good as any.
Your Daily Blend of Entertainment News